Starbucks, Massapequa
For my brother, Robert A. Bernstein
Right now I'm sitting in the cafe, riding a Schwinn
two-wheeler through my memory, down a path that
makes a great loop around Lake Childhood. The boy
at the shoreline, watching a dozen swan rising, has just
thrown his two-wheeler carelessly to its side, broken open
a can of fast-bake biscuit dough and baited up his fish hook,
hoping for a catch of perch or fresh water trout, but not really
caring what happens next, because it is Saturday morning
at sunrise, and he is here now.


© by Dennis J. Bernstein
Used with the author's permission.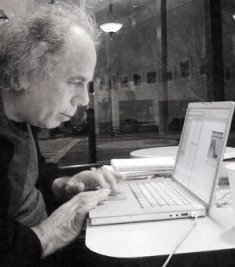 Dennis J Bernstein is the author of Special Ed: Voices from a Hidden Classroom, based on his experiences as a special education teacher in the New York City public school system. The book received the 2012 Literary Achievement Award from Artist Embassy International. Alice Walker, Pulitzer Prize-winning author of The Color Purple, says that Special Ed "… is art turned to us through the eyes of love …" and Carol Smaldino says, in The Huffington Post, that the poems remind us how " … we are all connected to the sorrows as well as to the grandness of being human …" A long-time, front line reporter specializing in human rights, Dennis' work is widely published in leading magazines and newspapers. He lives in San Francisco.
barbsteff:
Excellent!
Posted 04/08/2017 03:09 PM
joecot:
Such a perfect little memory in a perfect little poem.
Posted 04/08/2017 01:18 PM
Jancan:
Superb and moving use of metaphor--LOVE it! Janice
Posted 04/08/2017 11:36 AM
wendy morton:
Riding a Schwinn two-wheeler through my memory. Lovely.
Posted 04/08/2017 10:45 AM
David:
The dedication to the poet's brother makes me wonder who the boy at the shoreline is ... and if the poem is actually more melancholy than it seems at first. Nicely done in any case.
Posted 04/08/2017 09:12 AM
KevinArnold:
Oh, yes, concision at dawn.
Posted 04/08/2017 08:22 AM
JanetruthMartin:
love the nostalgia and aromas. ah Saturday!
Posted 04/08/2017 07:20 AM
SAR2126:
What a wonderful poem to start the weekend with. Thank you.
Posted 04/08/2017 04:00 AM