With Klee Wyck by my side,
Book of Small – from the library –
rising and falling
on my young sleeping chest,
I found her first
under my pillow –

Coming in dreams
with canvas and paint,
sweep of the trees rising through light,
raw stumps shadowed skies –
in the sound of her paintings
a whispering voice

You can do the impossible
You can be who you are.


A variation of this poem first appeared in Musings: An Anthology of Work by the Collingwood Writers' Collective (Collingwood Public Library, 2016).
Used here with the author's permission.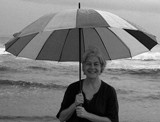 Susan Wismer is a poet, gardener (her life, she says, is "punctuated by my relationships with the plants and trees in my yard"), grandmother, and dancer. Widely published in journals and anthologies, Susan lives "gratefully nested" at the shores of Georgian Bay in Collingwood, Ontario, Canada.
Daisy Marta:
Thank you for your poetic tribute to Emily Carr. I was not familiar with her paintings and writings until now. I have two more woman for which I can be proud. 👏👏👏
Posted 04/13/2017 12:25 PM
transitions:
Loved it.
Posted 04/10/2017 07:03 PM
Larry Schug:
"the sound of her paintings"--a person could meditate on that line for a lifetime.
Posted 04/10/2017 08:23 AM