1

The sun arises from the sea, 
And all around his rays is flinging, 
The flowers are opening on the lea, 
The merry birds are singing. 

2

The summer breeze is rustling past, 
Sweet scents are gathering around it, 
The rivulet is flowing fast, 
Beside the banks that bound it. 

3

All nature seemeth to rejoice, 
In the returning summer weather; 
Let us with nature raise our voice, 
And harmonise together. 

4

But not alone for summer skies 
Shall praise unto our God be given: 
This day our Saviour did arise, 
And oped the gate of heaven. 

5

To sinful man, if only he 
His errings will confess with sorrow, 
Then, after earth's night-misery, 
Shall dawn a glorious morrow: 

6

A blissful bright eternity 
Bought by the rising of the Giver, 
To Whom all praise, all honour be, 
For ever and for ever.
This poem is in the public domain.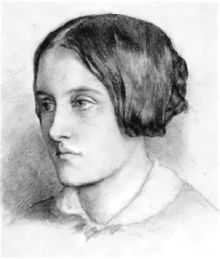 Christina Rossetti (1830 - 1894) was born in England to a family of great literary and artistic talent. A beauty who frequently modeled for her brother Dante and other respected artists of her day, Christina began writing as a child and published her first poem at eighteen. A kind-hearted woman who spent many years as a charity volunteer, Christina's devout faith was often a central theme in the three books of poetry and four books of devotions she wrote during her life. Though her poems show up consistently in contemporary films, television shows, and musical compositions, her most familiar work is "In the Bleak Midwinter," which, when set to music, became a beloved Christmas carol.
JanetruthMartin:
Wonderful words to celebrate this joyous day. Happy Easter to all!
Posted 04/16/2017 08:46 AM
Jean :D:
Joyous voices indeed this beautiful Easter morning, thanks be to God, Alleluia!
Posted 04/16/2017 07:20 AM
paula:
Hi Kevin--our church has that tradition in its Easter liturgy.
Posted 04/16/2017 06:56 AM
KevinArnold:
There's a tradition among some Christians that they greet one another this morning by saying "He is risen," to which the expected response is, "He is risen indeed." This poem seems to fit well into such traditions, as does reading a gospel of Easter morning. Such a beautiful, finely-crafted poem.
Posted 04/16/2017 06:43 AM