When I was four I wanted to touch
Mrs. Lee's throat,
my small hand poised, delicate
in the warm air close
to her, tracing

the cup of her bone, the beautiful notch
at the base of her neck,
the rounded line of her plain
navy blue dress.
She didn't mind.

On those happy rare evenings
when our parents went out,
in my place on her lap,
its comforts, its warmth,
a whisper of perfume, smells of
flowers and play,

I could see clearly her moonbeam-pale skin,
a tiny brush painting, a sketching of folds
held in her hollow, soft skin rimming bone.
How her skin fluttered softly
with each beat of her heart.
                                                                                                                                                                                              
By the time I was six, I knew
what everyone knew in our small town—
husband long gone, drunkard son
still at home with her in
a little apartment over the ladies' wear shop.
She sat children evenings
making ends meet.

I choose to believe, she went to the drugstore,
bought Evening in Paris
opened up the blue bottle
right there in the store

touched a warm, worn finger,
firm and fragrant, to that small open place where
my child's hand had lingered.

Walked, proudly and kindly,
home through the town
in old shoes, her one blue dress.

This poem first appeared in Sound Me When I'm Done (Wintergreen Studios Press, 2016).
Used here with the author's permission.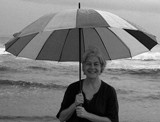 Susan Wismer is a poet, gardener (her life, she says, is "punctuated by my relationships with the plants and trees in my yard"), grandmother, and dancer. Widely published in journals and anthologies, Susan lives "gratefully nested" at the shores of Georgian Bay in Collingwood, Ontario, Canada.
joecot:
I had a Mrs. Lee in my childhood, too. I guess we all do. Lovely poem, told with sympathy and grace.
Posted 05/02/2017 11:46 AM
barbsteff:
Touching, with the aura of truth!
Posted 05/02/2017 11:38 AM
Glen Sorestad:
What a memorable portrayal, Susan. A beautiful poem to start the day!
Posted 05/02/2017 09:10 AM
Jancan:
I really enjoyed this beautiful moving, descriptive poem. Janice
Posted 05/02/2017 09:05 AM
Larry Schug:
I think it's important to write about "ordinary" people in everyday situations, though, of course, nobody is ordinary. Doing so in a good poem such as this is even more powerful. I really liked the ending.
Posted 05/02/2017 08:24 AM