O sweet morning—
coffee on the patio,
the Sunday Times
spread between us,
red geraniums
in the window box,
the dog at your feet.
Stop, Love. Don't move.
Don't even breathe.
I wish us fixed
this way, cups raised,
the green season before us.


From The Green Season (World Parade Books, 2011).
Used here with the author's permission.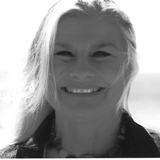 Donna Hilbert writes and teaches private workshops from her home in Long Beach, California. Her work is widely published in multiple languages and she is featured in the documentary, "Grief Becomes Me: A Love Story." Her most recent collection is The Congress of Luminous Bodies, from Aortic Books, and she has several poems in The Widow's Handbook (Kent State University Press). Learn more about Donna at www.donnahilbert.com.
DaisyMarta:
Awareness of the smallest moments of joy is a beautiful thing. You have captured the joy so nicely!
Posted 05/23/2017 06:35 PM
ghctenmile@earthlink.net:
Thanks for this poem. It's just right.
Posted 05/15/2017 11:22 PM
Jo:
A moment of grace--you felt and embraced it and shared it with us--It made me feel hope.
Posted 05/15/2017 05:59 PM
blueskies:
Delight in this poem's askance to 'Stop'... Thanks, Donna.
Posted 05/15/2017 05:20 PM
transitions:
Beautiful...
Posted 05/15/2017 03:15 PM
peninsulapoet:
Thanks to all of you for the kind comments.
Posted 05/15/2017 01:38 PM
wendy morton:
She knows there is some hope in the world as each green season arrives.
Posted 05/15/2017 12:30 PM
joecot:
The sweetness has an ominous undercurrent of foreboding... A powerful poem.
Posted 05/15/2017 11:47 AM
RyanWarren:
Ah, perfect. Once again, Donna Hilbert for the win.
Posted 05/15/2017 09:30 AM
Jancan:
She paints a lovely picture! Janice
Posted 05/15/2017 08:46 AM
plgoodman:
This has brought sweet, sneaky tears. It IS all. Efote us. Thanks for the reminder.
Posted 05/15/2017 08:41 AM
mimi:
aaahhhhh...I can feel the peace now. lovely poem, Donna!
Posted 05/15/2017 07:34 AM
Katrina:
Trust Donna to catch the moment :-)
Posted 05/15/2017 03:21 AM