Every morning we see him
at a quarter past nine
passing the saguaro

and the prickly pear
as he trucks down the middle
of Elephant Butte Road

like a miniature pickup topped
with a white camper shell
striped blue on the sides.

We lift him up and carry
him across the desert
where we gently point

him in the opposite direction.
But no matter how far we take him,
he is back in the middle of the road

at the same place and the same time
with his nose pointed ahead
and his tiny legs motoring along

like a commuter on his way to work
or on his way to meet a friend
for breakfast at the local cafe.


This poem first appeared in Desert Directions (2015).
Used here with the author's permission.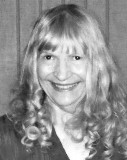 Sharon Waller Knutson is a retired journalist and grandmother who lives in the middle of the Arizona desert in an earth home built by her husband, Albert. She writes poetry and takes photographs of the wildlife that visits the waterfalls and pond in her front yard, while Albert sings and plays the guitar and builds furniture out of cactus. Sharon's work has appeared in several journals and she is the author of four chapbooks: Dancing with a Scorpion (Moon Journal Press 2006,) My Grandmother Smokes Chesterfields (Flutter Press 2014),  Desert Directions (2015) and They Affectionately Call Her a Dinosaur (2016).
transitions:
You can't turn a turtle around. Just pick him up from the road and help him go in the direction he's determined to go. Enjoyed the poem :)
Posted 05/23/2017 07:23 PM
Jancan:
Entertaining--awesome! Janice
Posted 05/23/2017 04:24 PM
KevinArnold:
This is great fun.
Posted 05/23/2017 02:17 PM
blueskies:
Slow & steady smiles! Building upon this shining poem. Thanks,Sharon.
Posted 05/23/2017 01:04 PM
barbsteff:
Delightful picture. In my experience, with midwestern turtles, when they're on the move they're going to lay their eggs someplace with diggable soil, away a bit from a lake. So rerouting them is rude. Maybe terrapins are different.
Posted 05/23/2017 12:24 PM
Sharon Waller Knutson:
Thank you all for the wonderful comments on my poem. It makes me happy to put smiles on readers' faces. Yes, this is a true story as are most of my poems because I have had so many adventures in my lifetime that I like to share. We live four miles from town on a dirt road out in the middle of the desert with the wildlife. One time we hauled the tortoise in our pickup and brought him two miles to our property thinking he would just disappear into the desert but he headed back on the road. For some reason, that particular spot was home to him. That was years ago. We saw other tortoises on the road also but not for years.
Posted 05/23/2017 09:50 AM
Larry Schug:
Maybe he or she is heading to Terrapin Station! (Dead Heads will understand). Thanks for keeping eye on this creature and for sharing a cool poem.
Posted 05/23/2017 08:52 AM
paradea:
Slow and steady!! Good for the soul! Love it!!
Posted 05/23/2017 08:29 AM
JanetruthMartin:
thank-you for the smiles:)
Posted 05/23/2017 07:20 AM
Katrina:
I like this.
Posted 05/23/2017 05:16 AM
Sarah Russell:
This is just perfect!
Posted 05/23/2017 04:05 AM