Sometimes I miss the tyranny
of our old schedule:
carpools, deadlines, meetings,
the Saturday scramble to get the kids
to soccer and ballet.
The way it kept one day
from blurring into the next.

But other days, our hazy plans
become a kind of sweet cadence
we can hum along with.

Like today, just an average Wednesday,
the laundry folded, a bowl of plump grapes
on the round oak table,
the afternoon stretching ahead.

Tonight, if the peaches have softened,
we will make Jamaican Chicken,
dark chili and cumin blending with garlic,
the peel of the peach sliding off the knife
in one long, silken strip.
†
©†by Judith Waller Carroll.
Used here with the authorís permission.
†
†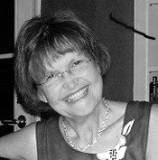 Judith Waller Carroll is the author of The Consolation of Roses, winner of the 2015 Astounding Beauty Ruffian Press Poetry Prize, and Walking in Early September (Finishing Line Press, 2012). Her work has appeared in numerous journals and anthologies and has been nominated for Best of the Net. Judith was born and raised in Montana, lived for many years in the San Francisco Bay Area, and now lives in the Ouachita Mountains of Arkansas with her husband, novelist Jerry Jay Carroll.
Lori Levy:
Love the language and images in this poem.
Posted 05/27/2017 04:22 PM
KevinArnold:
What a wonderful poem. Thank you.
Posted 05/27/2017 10:41 AM
cork:
I love the way you peeled the peach.
Posted 05/27/2017 09:47 AM
mjorlock:
Beautifully written and crafted! Well done, Judith.
Posted 05/27/2017 08:11 AM
Gilbert Allen:
I especially enjoyed the poem's final image
Posted 05/27/2017 07:39 AM