Grow 'em
Pick 'em
Slice 'em
Lick 'em
Stir them into soup
Skin 'em
Crush 'em
Blend 'em
Mush 'em
Pound them into goop
Boil 'em
Freeze 'em
Fry 'em
Squeeze 'em
Let nothing go to waste
Can 'em
Jar 'em
Bag 'em
Store 'em
Reduce them to a paste
Love 'em
Crave 'em
Bought 'em
Ate 'em
Can't get me enough
Red vine
Brandywine
Big Beef
Early Girl
I'm addicted to this stuff
Black Plum
Cherry Buzz
Heirloom Green
Orange Jazz
Mmm, so good to munch
Indigo Beauty
Jubilee
Marizol Magic
Napoli
Are there any left for lunch?
†
©†by Mike Orlock.
Used with the authorís permission.
†
†
†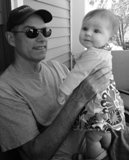 Mike Orlock is a retired high school English and American History teacher who splits time between the Chicago suburbs and a vacation home in Sturgeon Bay, Wisconsin. He has been married for 40 years to his high school sweetheart and inspiration, Liz, and greatly enjoys being grandfather to four beautiful little girls. Mike's short stories, poems, and reviews have appeared in a variety of publications†and he was a Jade Ring winner in a contest sponsored by the Wisconsin Writers Association.
†
†
†
There are no comments for this poem yet.