All morning in the February light
he has been mending cable,
splicing the pairs of wires together
according to their colors,
white-blue to white-blue
violet-slate to violet-slate,
in the warehouse attic by the river.

When he is finished
the messages will flow along the line:
thank you for the gift,
please come to the baptism,
the bill is now past due:
voices that flicker and gleam back and forth
across the tracer-colored wires.

We live so much of our lives
without telling anyone,
going out before dawn,
working all day by ourselves,
shaking our heads in silence
at the news on the radio.
He thinks of the many signals
flying in the air around him
the syllables fluttering,
saying please love me,
from continent to continent
over the curve of the earth.
From Overtime (Eastern Washington University Press).
Used with the author's permission.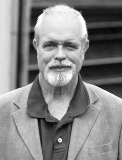 Joseph Millar's first collection, Overtime, was a finalist for the 2001 Oregon Book Award. His second collection, Fortune, appeared in 2007, followed by a third, Blue Rust, in 2012. Joseph grew up in Pennsylvania and attended Johns Hopkins University before spending 25 years in the San Francisco Bay area working at a variety of jobs, from telephone repairman to commercial fisherman. It would be two decades before he returned to poetry. Joseph's work—stark, clean, unsparing—records the narrative of a life fully lived among fathers, sons, brothers, daughters, weddings and divorce, men and women. He has won fellowships from the John Simon Guggenheim Foundation and the National Endowment for the Arts, as well as a 2008 Pushcart Prize. Joseph teaches in Pacific University's low-residency MFA program.
.
transitions:
My husband was a telephone lineman ~ wish he was still here to see it like this, a lovely way to show him he really was Important. So, it's very special to me ~ thank you. Judy
Posted 02/04/2015 04:52 PM
wendy morton:
In these days of twitter, Instagram, texts,(none of which I do) the voice at the end of the line is not replaceable. We need the fluttering syllables.
Posted 02/04/2015 11:06 AM
cork:
How frustrating when we lose communication!
Posted 02/04/2015 08:42 AM
Sherry:
Wonderful poem - one of my favorites here at YDP! I like the line about the voices flickering and gleaming, too. Now I'm going to Google Joseph and see about ordering one of his books. :)
Posted 02/04/2015 08:26 AM
Larry Schug:
I most always like poems about working people and this is a good one, a fine way to walk in another's shoes for awhile.
Posted 02/04/2015 07:59 AM
rhonasheridan:
A poem to remember
Posted 02/04/2015 02:03 AM
Ross Kightly:
Among many things I love the "voices that flicker and gleam"!! Consider that phrase STOLEN! Beautiful poem.
Posted 02/04/2015 12:06 AM
KevinArnold:
Great poem; especially the first two paragraphs, which bring out our inter-dependence and inter-connectedness with little or no direct reference.
Posted 02/04/2015 12:00 AM