A blue barn
guards the road
with white washed beauty.
I struggle not to look too long.
 
If I close my eyes,
I will miss the roadside show—
the all-things-blooming film
that passes like silk ribbon
outside the window.
 
Circles of plow trails
leave a snake's zig zag path—
the testing of pen ink swirls
in grass so green
even the pond frogs are jealous.
 
This barren road
has a life beyond where
ten gallons of gas will take me.
 
What if I stop the car—
refuse to go any further?
What if I park
and walk up to that blue barn—
sit up against its splintered history
for a quiet afternoon of field gazing,
while the hood of the car steams
in the mid-July sun?

This poem first appeared in Amnesia and Awakenings (Local Gems Press, 2016)
Used here with the author's permission.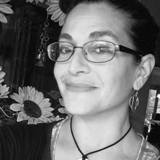 Cristina M. R. Norcross is the founding editor of Blue Heron Review, co-founder of Random Acts of Poetry & Art Day (Feb. 20th), and author of seven poetry collections. Her work has appeared in numerous anthologies and journals. When not writing, Cristina devotes time to fine art photography and creating handmade jewelry from stones and recycled materials. Learn more about Cristina at www.cristinanorcross.com.
transitions:
I have often wondered about a similar road, I guess that one not taken ~ the many old WI barns, the wildflowers that slip past down the highway. This sums it all up, beautifully, Cristina!
Posted 04/17/2018 03:00 PM
cristinamrnorcross:
Thank you so much for your very kind comments - Jo, Glen, and Michael. I truly appreciate it! Once we get past this persistent winter in the Midwest, I look forward to some barn spotting and field gazing.
Posted 04/13/2018 08:24 AM
Jo:
Really enjoyed your poem Cristina. Remember similar times in South Dakota
Posted 04/12/2018 12:32 PM
Glen Sorestad:
I love the "roadside show" stanza, Cristina.
Posted 04/12/2018 10:53 AM
michael escoubas:
Outstanding!! Reminds me so much of my rural central Illinois background--barns, flowers, blue sky, plowed fields. Nicely done, Cristina.
Posted 04/12/2018 08:30 AM