Oh! hush thee, my baby, the night is behind us
And black are the waters that sparkled so green.
The moon, o'er the combers, looks downward to find us
At rest in the hollows that rustle between.
Where billow meets billow, there soft by the pillow.
Oh, weary wee flipperling, curl at thy ease!
The storm shall not wake thee, nor shark overtake thee
Asleep in the storm of slow-swinging seas.

This poem is in the public domain.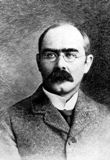 Rudyard Kipling (1865 - 1936) was an English author and poet. Born in India to British parents who were involved in preserving Indian art and architecture, Rudyard was sent back to England to be educated when he was only six. He rejoined his family in India eleven years later, pursuing a career as a journalist. Returning to England in 1889, his stories and poetry gained widespread and immediate attention. Critics generally loathed Kipling's work, but the public loved it. Stories such as The Jungle Book, The Elephant's Child, and How the Camel Got His Hump are now classic favorites.
JanetruthMartin:
Love this!
Posted 04/19/2018 04:49 PM
Jo:
Lovely choice, Jayne. "Combes" is a new word for me as well.
Posted 04/19/2018 03:23 PM
Katrina:
I love the third line: 'The moon, o'er the combers, looks downward to find us'. I like its feminine rhyme with 'behind us' and the repetition of 'us' has a lullaby effect to honour the title. 'Combers' is a new word for me, ringing of classical texts. It would rhyme with 'Homer's', but I sense it may be Virgil's Aeneid it is echoing for me, even if the word there was translated as 'breakers'.
Posted 04/19/2018 11:05 AM
michael escoubas:
Delightful! Wonderful post, Jayne. Thank you.
Posted 04/19/2018 10:35 AM
laurasalas:
This is one of my all-time favorite poems, and I share it often. Sigh. It just brings peace.
Posted 04/19/2018 08:14 AM