blows from the orchard,
litters the ground with pink petals,
makes way for sweet fruit
to form on apple branches,
though there is no guarantee
new apples will flourish
through a summer ripe with threató
insects, drought, pecking birds, hail stones.
It has to be this way
for sweetness to have meaning.

© by Larry Schug.
Used with the authorís permission.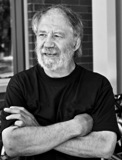 Larry Schug, after a work life of various kinds of manual labor and learning, is retired—a career he says he was born for. Author of eight collections of poetry (the most recent is A Blanket of Raven Feathers, from North Star Press), Larry is a volunteer writing tutor at the Writing Center at the College of St. Benedict and a volunteer naturalist at Outdoor U. at St. John's University. He lives with his wife, dog, and three cats near a large tamarack bog in St. Wendel Township, Minnesota.
Antoinette:
Well done.
Posted 07/04/2018 08:29 AM
CamilleBalla:
So true. Love the last lines.
Posted 05/07/2018 03:34 PM
barbsteff:
Fine pictures in this poem. Count me among the folks still looking at snow (So is Larry if he's at wehome in Minnesota!) We Northerners always face the danger of a freeze after fruit trees start to bud, thus losing the year's crop.
Posted 04/23/2018 12:54 PM
Jo:
A direct hit to the heart. Thank you, Larry.
Posted 04/23/2018 11:07 AM
Glen Sorestad:
Ah, so true, Larry! You've captured it perfectly.
Posted 04/23/2018 11:00 AM
Puppet Lady:
Simple and beautiful! Thank you for this lovely word picture.
Posted 04/23/2018 10:52 AM
paradea:
The last sentence says it all. I like this, Larry.
Posted 04/23/2018 09:33 AM
michael escoubas:
Well done, Larry!
Posted 04/23/2018 08:14 AM