as the child reaches
underneath the book
to help the father prop it up
their hands touch
underneath the book
and the story resumes
From Breather (Fireweed Press, 2009).
Used here with the author's permission.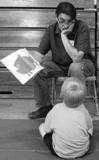 Bruce Dethlefsen is the author of

Small Talk

(Little Eagle Press, 2014),

Unexpected Shiny Things
(Cowfeather Press, 2011), and

Breather

(Fireweed Press, 2009), and was Wisconsin's Poet Laureate from 2011-2012. He sings and plays harmonica and bass guitar in a blues band,

The Big Talkers, and runs Poet Camp twice a year. Bruce, who has taught more than a thousand people how to juggle, lives in Westfield, Wisconsin. Learn more about him at
www.brucedethlefsen.com
.
Dorcas:
Lovely; so sensuous. How simply the connection is conferred.
Posted 02/07/2015 10:33 AM
Janet Leahy:
That wonderful sense of touch, we are so lucky to have it! thanks Bruce
Posted 02/06/2015 05:03 PM
debrabruce:
Beautiful poem. I love the way so much rides on that one repeated line, "underneath the book."
Posted 02/06/2015 03:03 PM
cork:
Touching!
Posted 02/06/2015 08:30 AM
mimi:
short and o so sweet...
Posted 02/06/2015 07:34 AM
Maryann Hurtt:
kind of sums it all up, huh? Thank you, Bruce.
Posted 02/06/2015 06:55 AM
Gary Busha:
Yes.
Posted 02/06/2015 06:30 AM
rnordstrom:
Lovely little poem. Sometimes it's all about the incidental contact
Posted 02/06/2015 05:33 AM
KevinArnold:
Ah yes brevity and all lower case.
Posted 02/06/2015 12:08 AM
TheSilverOne:
Beautiful little poem.
Posted 02/05/2015 11:36 PM
barbsteff:
Beautiful!
Posted 02/05/2015 11:24 PM