monday I crossed off cowboy
tuesday fireman
wednesday president
thursday I couldn't find the list
friday my own fishing show
saturday catching for the cardinals
sunday I took a nap
sorry
I had to
the moons flew by too soon

From Unexpected Shiny Things (Cowfeather Press).
Used here with the author's permission.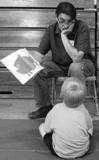 Bruce Dethlefsen is the author of five books and was Wisconsin's Poet Laureate from 2011-2012. He sings and plays harmonica and bass guitar in a blues band, The Big Talkers, and runs Poet Camp twice a year. Bruce, who has taught more than a thousand people how to juggle, lives in Westfield, Wisconsin. Learn more about him at www.brucedethlefsen.com.
barbsteff:
Good one Bruce! A well pruned wish list.
Posted 04/26/2018 04:31 PM
CamilleBalla:
I like this!! In a few words, there's hope, choice, nap, time, life -- all in a light poetic rhythm. Has me thinking...
Posted 04/26/2018 11:18 AM
Stephen Anderson:
Tempus does fugit, right Bruce? Nice one.
Posted 04/26/2018 10:20 AM
cork:
So many thoughts in so few words!
Posted 04/26/2018 09:20 AM
Larry Schug:
Hmm...I think I'll add a few new career choices to my list-Guitar God, Poet Laureate, World Traveler, Astronaut. Everything crossed off a list makes room for something new. Obviously, this poem got me to thinking. Good one!
Posted 04/26/2018 09:05 AM
michael escoubas:
Bruce, So clever and effective--I'm looking back at 1965--I, too, have crossed "fireman" off my list!
Posted 04/26/2018 08:30 AM