Morning has broken,
Like the first morning,
Blackbird has spoken
Like the first bird;
Praise for the singing,
Praise for the morning,
Praise for them springing
Fresh from the Word.

Sweet the rain's new fall,
Sunlit from heaven,
Like the first dewfall
On the first grass;
Praise for the sweetness,
Of the wet garden,
Sprung in completeness
Where His feet pass.

Mine is the sunlight,
Mine is the morning,
Born of the one light
Eden saw play;
Praise with elation,
Praise every morning,
God's re-creation
Of the new day.
This poem is in the public domain.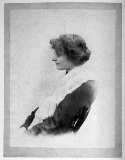 Eleanor Farjeon (1881 - 1965) was an award-winning English author of primarily children's literature. Born into a literary family (her parents and siblings were all writers, except for one brother who was a composer), "Nellie," as she was called, started writing when she was a child. She was friends with many leading authors of her time, including D.H. Lawrence and Robert Frost. Though Eleanor produced a tremendous amount of work--more than eighty books of children's stories and poems, adult novels, and other work, plus numerous school plays--her best known creations are this poem, "Morning Has Broken," made popular in the song by Cat Stevens, and the Christmas carol, "People Look East!"
Rosem:
So happy to have YDP back. I've missed them.
Posted 06/03/2018 11:06 PM
JanetruthMartin:
Thank-you for sharing the story behind the poem/song! and, SO delighted to have these YDP poems back in my in-box! thank-you!
Posted 06/03/2018 09:42 PM
Jo:
The tune itself is so uplifting, and these words of praise in the poem fitting and beautiful.
Posted 06/03/2018 04:07 PM
barbsteff:
I did not know the story behind these lyrics. Thank you!
Posted 06/03/2018 03:09 PM
ghctenmile@earthlink.net:
Thanks, Jayne. I love the tune to this song and only ever remembered some of the words--now, thanks to you I won't drive people crazy by singing la la la la la la. Grace
Posted 06/03/2018 02:41 PM
rhonasheridan:
I got stopped too soon! I had a wonderful little Aunt who sang and played the piano when I was very wee - this is one of my best childhood memories. We didn't havearadio. We didn't need one?
Posted 06/03/2018 11:26 AM
rhonasheridan:
Lovely.
Posted 06/03/2018 11:18 AM
Sarah Russell:
Wonderful to see the words alone to study how they play together into meaning. Thanks!
Posted 06/03/2018 10:16 AM
michael escoubas:
I'm familiar with both the poem and melody. Both are beautiful, haunting, soothing.
Posted 06/03/2018 08:43 AM
finney@charter.net:
I read this lovely poem just as the sun rose on a Sunday morning. I had been refining a poem about this "marvelous miraculous earth," this creation.
Posted 06/03/2018 06:58 AM