My students are inspired to read
more poems aloud if I bring
frosted animal crackers to class.
All well and good for them,
they are not scouring the perimeter
of the grocery store lately,
choosing only fresh produce,
spinach and bananas
for sustenance.
They do not know that
I have removed the map
of interior aisles from my
shopping itinerary,
undone my bonds with
sugar and fat, so that
even the innocent glance
after snacks in aisle nine
causes guilt I may need to
confess
to someone,
my sister perhaps,
"Is there a nutritionist in the house?"
No answer.
I grasp firmly the airtight foil
bag of pink and white safari shapes.
Animal cookies with rainbow sprinkles
stare innocently at me from a
faraway land,
a past to which I cannot return.
I read the serving size and calorie count.
8 cookies, 160 calories.
20 calories for one soul.
I think,
not too long or hard,
cut the foil,
drink in a wave of sugar air,
only I could love this much,
try to decide between pink
and white.
Will they taste different?
I remove a single
white iced mountain goat,
hold him,
smell his head
and indulge.
He travels the lonely caves
of my esophagus,
to a pit where I think
I hear him land.
Growling, you would think he is
a herd.
But no, his
is a solitary fate.
Delicious.

© by Gretchen Friel.
Used with the author's permission.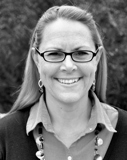 Gretchen Friel teaches English, German, and creative writing to high school students in Northern Illinois, where she lives with her husband. They have five adult children between them, and four grandchildren. Most recently, Gretchen has written a poetic memoir and is sharing one poem at a time on her Instagram site: @rescuedpoeticmemoir.
Antoinette:
This was such a fun read. Thank you.
Posted 07/04/2018 08:18 AM
Jo:
This is a novel idea and a fun poem. thank you.
Posted 06/05/2018 01:52 PM
hkramer1:
Gretchen! I love this poem, Animal Cracker.....and @rescuedpoeticmemoir absolutely moving my soul. SO enjoying getting to experience your poetry! Thank you!
Posted 06/05/2018 01:50 PM
Jean Colonomos-1:
Jean: You're right, a great teaching idea.
Posted 06/05/2018 11:19 AM
Wilda Morris:
Ah, yes! "Animal crackers and cocoa to drink/ that is the finest of suppers I think . . . . I love the old poem even more than the animal crackers. And I love Gretchen's metaphoric language.
Posted 06/05/2018 10:59 AM
cork:
I love "safari shapes."
Posted 06/05/2018 10:47 AM
Lori Levy:
Love the lines "travels the lonely caves/of my esophagus,/to a pit where I think/I hear him land."
Posted 06/05/2018 10:46 AM
Jancan:
Love this! Jancan
Posted 06/05/2018 09:25 AM
KevinArnold:
What a fun poem! A touch of culinary sin, with knowledge of forethought, and without the "ate a quart of ice-cream" ending. A solitary cracker indeed!
Posted 06/05/2018 08:57 AM