I am floating in the public pool, an older guy
who has achieved much, including tenure,
a child, and health insurance including dental.

I have a Premier Rewards Gold Card
from American Express, and my car
is large. I have traveled to Iceland.
In addition, I once met Toni Morrison
at a book signing and made some remarks
she found "extremely interesting." And last month
I was the subject of a local news story
called "Recyclers: Neighbors Who Care." In short,
I am not someone you would take lightly.

But when I begin to playfully splash my wife,
the teenaged lifeguard raises her megaphone
and calls down from her throne, "No horseplay in the pool,"
and suddenly I am twelve again, a pale worm
at the feet of a blond and suntanned goddess,
and I just wish my mom would come pick me up.

From Blood Pages (University of Pittsburgh Press, 2018).
Used here with the author's permission.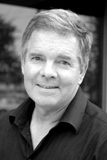 George Bilgere lives in Cleveland, Ohio with his wife and two little boys. The family endures the rigors of a Cleveland winter, then flees to Berlin, Germany for the summer, where they spend the days bicycling, exploring the city, and goofing off. George plans to spend this summer there doing some important research on beer. Learn more about him at http://www.georgebilgere.com.
Antoinette:
It only takes a little thing to knock us off the throne that we have built for ourselves. Fun read!
Posted 07/04/2018 08:13 AM
Phyllis Beckman:
Wish I'd been the sun tanned beauty being admired. People don't recognize their own beauty until they're old and looking back on their youth. Phyllis Beckman
Posted 06/14/2018 05:27 AM
ccmatthe6444:
What fun! Would love to play again and hope George and his family have a marvelous summer doing this vital research!
Posted 06/09/2018 09:21 AM
transitions:
Really liked this poem and loved thecending.
Posted 06/08/2018 01:32 PM
Lori Levy:
Great!
Posted 06/08/2018 11:59 AM
wendy morton:
Such goofy details. A delight.
Posted 06/08/2018 11:23 AM
Jean Colonomos-1:
Jean Made my heart move too.
Posted 06/08/2018 11:08 AM
bayjev@shaw.ca:
Lovely. Made my heart move.
Posted 06/08/2018 10:36 AM
DavidTookey:
Perfect!
Posted 06/08/2018 10:29 AM
cork:
The Pinedale Aquatic Center has a sign:"No Horseplay!"
Posted 06/08/2018 09:57 AM
rhonasheridan:
Delightful!
Posted 06/08/2018 09:47 AM
paradea:
Hahahahahahaha!!! Love this!!
Posted 06/08/2018 09:23 AM
Belinda:
Love this poem. Contrasts with humor!
Posted 06/08/2018 09:16 AM
Larry Schug:
Well, at least a person can break the rules with poetry!
Posted 06/08/2018 09:00 AM
vortex:
Love this poem---thanks
Posted 06/08/2018 08:59 AM
Jancan:
Great way to start my day, sipping coffee and reading a great poem that makes me smile! Janice
Posted 06/08/2018 08:46 AM
Sharon Waller Knutson:
I love George Bilgere poems and was happy to see this poem on YDP. Waking up to this wonderful poem was like a splash of cool water since it is in the triple digits in Arizona.
Posted 06/08/2018 08:31 AM
mjorlock:
In the lexicon of a 12 year old today, LOL.
Posted 06/08/2018 08:13 AM
Charly:
HA,HA,HA!!!!
Posted 06/08/2018 08:01 AM
michael escoubas:
DELIGHTFUL! DELIGHTFUL! DELIGHTFUL!
Posted 06/08/2018 07:41 AM