They're in the kitchen,
drinking coffee, the kids,
in their fifties now,
figuring out what to do
about Dad, who's
in the parlor listening,
counting all the marbles
they think he's lost.
The six of them flew in
to bury mother.
They won't go back
until they figure out
what to do about Dad.
At the funeral they saw
Father Kelly kiss Dad's
wedding ring, the one
he's worn for 60 years.
Father Kelly bowed
over the wheelchair
as if Dad were pope
and told him he'd be over
Tuesday night as usual
for checkers and a beer.
Best two out of three
goes to heaven first.

© by Donal Mahoney.
Used with the author's permission.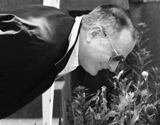 Donal Mahoney lives in St. Louis, Missouri. A native of Chicago, he spent the early '70s actively submitting poems to print journals and enjoyed some success. He then took a 35-year hiatus from poetry to work as an editor of prose at such lofty establishments as the Chicago Sun-Times, Loyola University Press, and Washington University in St. Louis. Upon retirement, Donal took to his recliner, and was perfectly happy reading and listening to Gregorian chant all day. After three years, however, his wife bought Donal a computer and showed him where the boxes of still-unpublished poems had been stored in the basement for many years. Thus Donal began actively submitting again in June 2008. Some of his work since then can be found here; more can be seen at http://booksonblog12.blogspot.com/.
Antoinette:
Love it.
Posted 07/04/2018 07:59 AM
Lori Levy:
Says a lot in a simple, beautiful way.
Posted 06/12/2018 08:20 PM
cork:
Sl inte
Posted 06/12/2018 04:32 PM
rhonasheridan:
Delightful. What a perfect picture!
Posted 06/12/2018 01:29 PM
Jo:
For all of us, Donal. We heard a conversation in our kitchen not to long ago on that very thing--they'd be better off without these hard winters... Loved the line about counting marbles. Thank you.
Posted 06/12/2018 12:18 PM
wendy morton:
His poetry magic. Taking the ordinary, making it extraordinary.
Posted 06/12/2018 11:39 AM
michael escoubas:
Wonderful way of showing how beautiful life can be in thru endearing actions of friendship. I especially like, "Best two out of three goes to Heaven first. WELL DONE, Donal.
Posted 06/12/2018 10:08 AM
finney@charter.net:
Oh, yes. For all of us, Donal, who have and are caring for parents, trying to balance dignity with concern. Lovely, just lovely!
Posted 06/12/2018 09:48 AM
Gilbert Allen:
Yes, those marbles are a nice find!
Posted 06/12/2018 08:38 AM
bbatcher:
Best line: counting all the marbles/they think he's lost.
Posted 06/12/2018 08:09 AM
David:
Very moving and elegant in its simplicity. Love it.
Posted 06/12/2018 07:34 AM