The vast and solemn company of clouds
Around the Sun's death, lit, incarnadined,
Cool into ashy wan; as Night enshrouds
The level pasture, creeping up behind
Through voiceless vales, o'er lawn and purpled hill
And haséd mead, her mystery to fulfil.
Cows low from far-off farms; the loitering wind
Sighs in the hedge, you hear it if you will,—
Tho' all the wood, alive atop with wings
Lifting and sinking through the leafy nooks,
Seethes with the clamour of a thousand rooks.
Now every sound at length is hush'd away.
These few are sacred moments. One more Day
Drops in the shadowy gulf of bygone things.

This poem is in the public domain.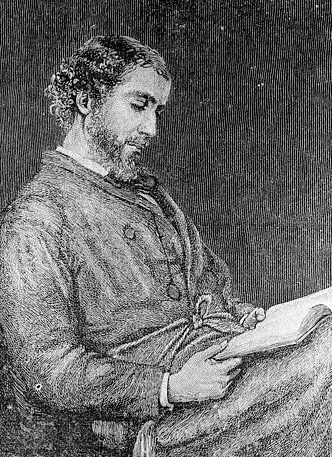 William Allingham (1824-1889) was an Irish poet whose work was best known for its lyrical phrasing, simplicity, and charm. Author of nearly a dozen books, he was a customs house official for most of his life, although he did work as a magazine editor late in life. Known as "the bard of Ballyshannon" (the town from which he came), William was a friend and fan of Alfred Lord Tennyson, as well the Brownings and Rosettis. In addition to writing poetry, William enjoyed collecting folk songs and ballads and even wrote a few of his own.
rhonasheridan:
This had some wonderful images.
Posted 06/24/2018 05:03 AM
Larry Schug:
Great poem. Thanks for bringing it back from wherever bygone poems and bygone days go, Jayne.
Posted 06/23/2018 08:54 AM