Gardener speaks
There's a gopher in my garden
Striped, cute as she can be
Last night in rainy weather
She made a fool of me

Gopher-ette
Would a tiny furry creature
Duke it out to make a point
Onions don't last forever,
Plus taste nasty, what a joint

In unison
It's time to sever friendship
Clearly doomed, yes, doomed to fail
Gopher and gardener both faked it
Unfit as pals, gave up and bailed

We'll treasure each and all hard lessons
Start elsewhere fresh and, on new turf
Kinda, sorta, a mixed blessing
Kinda, sorta a rebirth

For what it's worth

© by Phyllis Beckman.
Used with the author's permission.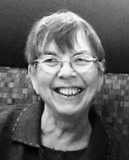 Phyllis Beckman greets the day by sharing poems she's written recently (she writes a poem every day) with 13 of her immediate family members. She credits her two writing groups, Women Writers Ink of La Crosse, Wisconsin, and the Wisconsin Fellowship of Poets, for inspiring and encouraging her.
cork:
Ground squirrels, gophers, chipmunks--who can tell the difference?
Posted 06/30/2018 11:43 AM