After dinner is over, dishes clean,
their porcelain lips stacked in smiles
behind the cupboard door.
 
After your desk is organized,
emails sent, final draft finished,
your to-do list a flock of check marks
like migratory birds flapping
down the column and out
to the horizon of a light-suffused land
called Everything is Done.
 
Finally, you can do whatever it is
you say you've always wanted to do.
Or not said, because naming can sometimes
dilute a dream's dark essence.
 
But there's a bank overdraft to fix,
unread library books to return,
another doctor's appointment,
and these days when you accelerate,
your car makes a screaming noise
like a small trapped animal.
You can picture its curled body
and dark eyes, terrified your speed
will toss it onto the moving parts
of a machine made only to go go go.
 
Maybe, after you get the car fixed,
clear up a few other things,
finally, then, you'll have time. 

 

This poem first appeared in the Great Lakes Review.
Used here with the author's permission.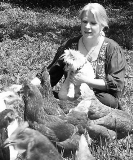 Laura Grace Weldon is the author of a poetry collection titled Tending, and a handbook of alternative education, Free Range Learning. She admits she would get more done if she didn't spend so much time reading library books, cooking weird things, and singing to livestock at her home in Litchfield, Ohio. Learn more about Laura at lauragraceweldon.com.


Antoinette:
Great images. Real life done so well.
Posted 07/04/2018 07:32 AM
Nana Ellen:
A delightful poem;filled with smiles of YES! Thanks,Laura Grace
Posted 07/02/2018 05:18 PM
Lori Levy:
Very true. I like the images--"porcelain lips stacked in smiles," "migratory birds," "small trapped animal."
Posted 07/02/2018 02:55 PM
LindaCrosfield:
Love this. Could have written a version. Why do we do this to ourselves? Well done!
Posted 07/02/2018 12:46 PM
peninsulapoet:
I get it. I will have another day like that today.
Posted 07/02/2018 11:49 AM
KevinArnold:
Perfectly rendered. And, now that I have a novel out, I find it, too, has its own screaming noises. Excellent poem.
Posted 07/02/2018 09:16 AM
cork:
I love our similes and metaphors.
Posted 07/02/2018 09:10 AM
Charly:
This is a perfect poem for my lifestyle. And I am retired with lots of time, yet little things so beautifully woven together in your poem still haunt me.
Posted 07/02/2018 08:35 AM