The Whale is found in seas and oceans,
Indulging there in fishlike motions,
But Science shows that Whales are mammals,
Like Jersey cows, and goats, and camels.

When undisturbed, the Whale will browse
Like camels, goats, and Jersey cows,
On food that satisfies its tongue,
Thus making milk to feed its young.

Asking no costly hay and oats,
Like camels, Jersey cows, and goats,
The Whale, prolific milk producer,
Should be our cheapest lactic juicer.

Our milk should all come from the sea,
But who, I ask, would want to be,
And here the proposition fails,
The milkmaid to a herd of Whales?

This poem is in the public domain.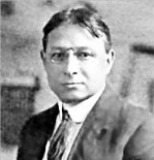 Ellis Parker Butler (1869 –1937) was a writer, editor, and banker. Born and raised in Muscatine, Iowa, he spent most of his life in New York City. Author of more than 30 books and more than 2,000 stories and essays which appeared in hundreds of newspapers and magazines, Ellis published his first story at the age of 13. Several of his works were converted into film, including Pigs is Pigs and  The Jack-Knife Man, was turned into a successful movie. Ellis was instrumental in starting the Authors' League of America.
188946:
An eloquently delicious and nutritious work. Many thanks to Butler.
Posted 02/24/2023 10:35 AM
188946:
An eloquently delicious and nutritious work. Many thanks to Butler.
Posted 02/24/2023 10:31 AM
Nana Ellen:
...the milkmaid to a herd of Whales!! Lov'd IT! Thanks, Ellis & Jayne,too.
Posted 07/06/2018 07:13 PM
waterpoet:
Such fun, and the perfect use of rhyme just puts that exclamation point on the whimsical humor!!
Posted 07/06/2018 05:45 PM
barbsteff:
Th first line sounds like an encyclopesiaarticle, and sets the tone for what follows. Like the playing with the line "Jersey cows, and goats, and camels."
Posted 07/06/2018 11:54 AM
michael escoubas:
I didn't know this about whales. Poetry, as art, is both beautiful and useful. Thank you for a very nice post, Jayne.
Posted 07/06/2018 11:06 AM
cork:
I love the skillful use of rhyme!
Posted 07/06/2018 08:58 AM
KevinArnold:
Interesting find, both poem and poet.
Posted 07/06/2018 08:47 AM
JanetruthMartin:
lol! love it!
Posted 07/06/2018 06:55 AM
rhonasheridan:
What a wonderful slant on life! A charming poem.
Posted 07/06/2018 05:13 AM