These eyes can no longer thread needles,
read newspaper print or pick a splinter
from my grandchildís throbbing finger. They
no longer hold the twinkle that caught a
young manís heart some sixty-five years ago.
These eyes can no longer see past twilight
where hyperopia and cataracts blur my vision
of your face, but not my memories of you.

© by Arlene Antoinette.
Used with the authorís permission.

†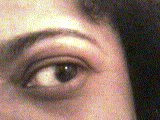 Arlene Antoinette is a West Indian-American who writes poetry, flash fiction, and song lyrics. She enjoys writing about everyday experiences and her work has appeared in a number of journals. Antoinette lives in Florida.
antoinette:
Thank you all for your wonderful comments.
Posted 08/27/2018 02:55 PM
wordartdjc:
Lovely. I am getting to this same heartfelt position year by year. It touched me and of course, that is the reward of any fine poem.
Posted 08/27/2018 01:09 PM
Lori Levy:
Sad, but beautiful.
Posted 08/26/2018 03:41 PM
cork:
You have the vision!
Posted 08/26/2018 11:17 AM
Glen Sorestad:
Beautifully done, Arlene. Not a wasted word.
Posted 08/26/2018 11:05 AM
Jean Colonomos-1:
Such a poignant poem about aging.
Posted 08/26/2018 09:02 AM