That thing they call a vacuum cleaner
needs to be killed, but when it roars and screams

they feel sorry for it, push it out of my way
and drag me from it just as I'm about

to save them from it. They hide the beast
in a closet when it finally quiets down.

Hideous creature! I know it's there.

The doorbell is strangers trying to get in.
If my people greet them as friends, I allow

entrance. Must jump on them to sniff
out intentions. My people so clueless,

they'd let anyone in—murderers, salesmen,
the no-good neighbors who live with a cat.

My man goes away for hours.

I patrol, nap with one eye open, perk an ear up
for his car. He returns slump-shouldered

carrying his case, his coffee mug. Smells like paper,
dust, the blah blah blah of too much talk .

So I drag him outside.

His nose is blind; he doesn't get
the messages on bushes, trees, or hydrants.

But the wind and the sky, he gets those.
He throws a ball, calls out like a kid.

See how the corners of his mouth
begin to turn up.

It takes a dog to notice these things.


© by Ginny Lowe Connors.
Used here with the author's permission.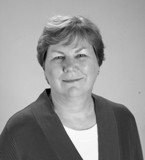 Ginny Lowe Connors is an editor, a publisher (Grayson Books), and a retired English teacher. The former Poet Laureate of West Hartford, Connecticut, where she lives, Ginny is the author of several award-winning poetry collections, the latest of which is Toward the Hanging Tree: Poems of Salem Village. She has also edited multiple anthologies; the most recent being Forgotten Women: A Tribute in Poetry. Says Ginny, "I have loved poetry since childhood. It sustains me. It crosses borders. The best poems find language to express complicated emotions and experiences in a way that gets at the core emotional truth. And the music of poetry reaches us beyond the level of language." Learn more about her at www.ginnyloweconnors.com.
Larry Schug:
WOOF! I would rate it a 5 dog biscuit poem!
Posted 09/02/2018 09:14 PM
Lori Levy:
Great idea writing a poem from the dog's perspective!
Posted 09/02/2018 05:36 PM
Jo:
Just love this poem. Enjoy all your poetry.
Posted 09/02/2018 02:23 PM
Sharon Waller Knutson:
I loved this poem. It was charming, clever, humorous and unique with the dog as the narrator. You captured the essence of the dog, hating the vacuum cleaner and people who smell like cats, possessing his man and running the household.
Posted 09/02/2018 11:12 AM
Sarah Russell:
They know us too well, but excuse our shortcomings. Bless them!
Posted 09/02/2018 10:38 AM
Janet Leahy:
This dog knows who rules the house, love the last line. Thanks Ginny.
Posted 09/02/2018 10:18 AM
gailcomorat:
What fun this poem is! Great voice and humor.
Posted 09/02/2018 08:17 AM