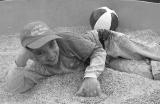 Lego pieces sliding on the wood floor
with Mr. Potato Head eyes
sandwiched in the middle
The shaking of a house
with the bouncy applause
for Toy Story at 4:32 a.m.
A quiet sigh of awe while the train
whistles beyond the bay window
The unnecessary gush of tap water delight
Eggshells cracking open on the linoleum floor,
scrambling feet sliding through that yolky goo
Quick scribbles on the Magna-Doodle
His bedroom door opening and closing,
opening and closing
A mattress squeak as he burrows
tightly under blankets while the melodic voice
of his sister soothes him lap-wing songs to sleep
A high-pitched squeal of victory
when the 7 Dwarfs are lined up perfectly
in the window sill Conga position
His beautiful language of desire
when he looks to the falling snow and declares,
I want ice-cream, please
The creaking of the hammock swing
carefully centered in living room motion
A spontaneous laugh-in-a-box chuckle
on a winter car ride
The juicy indulgence of apples
The pure splash of a pound of sugar
crystaling down like grains of blessings
too numerous to count.
This poem first appeared in Toward the Light (Summer, 2008)
Used here with the author's permission.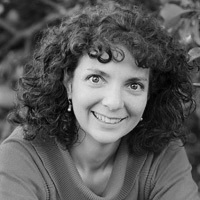 Anjie Kokan's son Brindley started therapy before the age of two because he had trouble speaking. He was officially diagnosed with autism shortly before he turned three. Together, Anjie, Brindley, and their family have journeyed through a colorful life of learning how to cope with multiple sensory issues and the many challenges life with autism brings. Despite the obstacles, Brindely has thrived and learned to enjoy life through keeping busy with many activities, including therapeutic horse riding, swimming, and special needs family camps. Autism is a topic Anjie writes about frequently. She is available to read her poetry and discuss her family's experience with community groups and schools. Find out more about Anjie's writing here.
Dorcas:
Thank you for this reflective poem. Autistic children are real and have real feelings and thoughts although ours may be different. God Bless the loveliness of all creation, as it has a purpose.
Posted 02/19/2015 06:04 PM
Wilda Morris:
A beautiful list poem about a beautiful life.
Posted 02/19/2015 03:36 PM
Yvette Viets Flaten:
Touching. Simply, touching.
Posted 02/19/2015 02:26 PM
transitions:
Simply beautiful♡ Thank you for sharing his many beautiful facets ~ Judy
Posted 02/19/2015 01:55 PM
hujsaked@aol.com:
Your poem is an exquisite window into a world that is unfamiliar to most people. Thank you, Abjie.
Posted 02/19/2015 09:21 AM
Cindy:
so much love in this poem
Posted 02/19/2015 08:38 AM
Larry Schug:
There is a lot to say about living life that way. In a way, many of us struggle to be so free and spontaneous. And to see snow as ice cream--wow. May you both continue your journey in sunlight. Thank you, Anjie.
Posted 02/19/2015 07:54 AM
mimi:
poignant and beautiful...
Posted 02/19/2015 06:42 AM
paula:
One of my favorites. Love to all.
Posted 02/19/2015 06:35 AM
KevinArnold:
Fine work here, the skewed-logical: His beautiful language of desire when he looks to the falling snow and declares, I want ice-cream, please
Posted 02/18/2015 11:10 PM