There is something in the autumn that is native to my bloodó
Touch of manner, hint of mood;
And my heart is like a rhyme,
With the yellow and the purple and the crimson keeping time.

The scarlet of the maples can shake me like a cry
Of bugles going by.
And my lonely spirit thrills
To see the frosty asters like a smoke upon the hills.

There is something in October sets the gypsy blood astir;
We must rise and follow her,
When from every hill of flame
She calls and calls each vagabond by name.


This poem is in the public domain.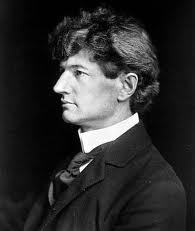 William Bliss Carman†(1861 - 1929) was a Canadian poet whose standing and success rose and fell throughout his lifetime, though he was eventually named as his country's poet laureate. Distantly related to Ralph Waldo Emerson, Bliss spent most of his adult life in Boston, pursuing whatever literary career he could. Though his poetry was respected, it wasn't especially popular until he published†Songs of Vagabondia, a rollicking, free-spirited collection that people connected with immediately. His other most notable work was serving as editor for the†World's Best Poetry†book series.
wordartdjc:
Yes, I have always had a strong attraction for the poetry of Bliss Carman. It can stir deep feelings within me. October is a very 'special' month. Bless the poets who can echo our own thoughts.
Posted 10/02/2018 03:12 PM
barbsteff:
Unless it's cold and rainy as it is now in Wisconsin! Every October my mother would recall "October's right blue weather," from a Longfellow poem I think. That's more in keeping with Cwrmn's poem. That bright blue weather has been less evident around here for while. The rhyme scheme is nifty.
Posted 10/02/2018 11:26 AM
Dorothy WildhagenD:
Same as spring fever arouses, so does the vagabond of autumn. I can understand that.
Posted 10/02/2018 10:42 AM
apples33@juno.com:
This is exactly how I feel every October!
Posted 10/02/2018 09:06 AM
Sharon Waller Knutson:
I loved this poem and its beautiful colorful description of autumn as the season for change and moving on like vagabonds. My favorite images were "yellow and the purple and crimson, smoke upon the hills and hill of flame."
Posted 10/02/2018 08:53 AM
KevinArnold:
Another great find. Thanks for your dedication, Jayne.
Posted 10/02/2018 08:28 AM
Debbie@bereafriendshipum:
Beautiful love it
Posted 10/02/2018 08:22 AM
cork:
I can hear the bugles calling!
Posted 10/02/2018 08:21 AM