A little after dusk on a clear night,
the men started to arrive
on the ridge above the covered bridge
with their favorite hounds.
After everyone had arrived,
the hounds were loosed,
and we started waiting,
talking softly and listening.
Someone passed around
some White Lightning
"to ward off the chill" while
we chatted about the weather,
when the moon would rise,
and which hound would be
first to find a scent.
Then Old Blue tuned up. Next
Al's pair added their voices and
the pack was off and running.
Listening for a bit, Ike said,
"It's a red fox this time.
He'll give them a good chase
before he goes to ground."
Then on that still night under
the rising moon, we were treated
to the sweet music of the hounds,
blending their voices in a lovely chorus,
as they ran the fox below the ridge.


© by Bob Kimberly.
Used with the author's permission.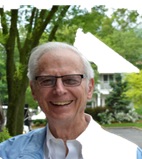 Bob Kimberly started writing poetry fifteen years ago after he retired and sold his horse farm, where he and his wife, Nancy, bred and boarded riding horses for nearly 30 years. To keep busy, he joined a creating writing class for senior adults, and discovered there that he enjoyed writing poetry. Bob has published a number of chapbooks, mostly for his family and close friends, and has also had a few poems published in newsletters and calendars. He lives in Bellevue, Washington.
Jo:
A most enjoyable poem.
Posted 10/26/2018 09:28 PM
Sharon Waller Knutson:
I loved this poem. It was so picturesque that I could see the men sipping white lightening and watching the hounds chasing the fox. My favorite line was: Then on that still night under the rising moon, we were treated to the sweet music of the hounds, blending their voices in a lovely chorus, as they ran the fox below the ridge.
Posted 10/26/2018 02:38 PM
Lori Levy:
Love the way this poem creates a scene for us.
Posted 10/26/2018 01:14 PM
wordartdjc:
A fine image of 'good old boys having a great night out'
Posted 10/26/2018 08:40 AM
cork:
My White Lightning has been evaporating and will soon be gone.
Posted 10/26/2018 08:23 AM