That one was sure unexpected.
The leaves still on the trees.

Halloween. Lizzie was one-and-a-
half—she was cute in her

101 Dalmations onesie. Toddling
around. Non-stop talking.

The snow would not stop falling
in wet fat flakes—this warm descent

of winter. The trick or treaters
had an urgency about them

to get all the candy they could
before winter—to hit as many

houses as possible. The cars
crunched along on the wet snow

What comforting silence between
that sound—you could separate

each sound from itself. It is possible
that I can remember everything?

© by Tim Nolan.
Used here with the author's permission.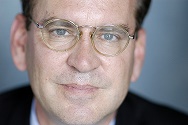 Tim Nolan likes to write poems about "everyday things," as he calls them, from Brussels sprouts to cockroaches. Born in Minneapolis, he graduated from the University of Minnesota with a B.A. in English, and from Columbia University in New York City with an M.F.A. in writing. An attorney in private practice in Minneapolis, Tim is the author of three collections of poetry and his work appears frequently in prestigious journals.


barbsteff:
I remember the first time we had snow on Halloween, in northern Illinois. Have seen it occasionally, in central Wisconsin. Good memories. Sharp detail.
Posted 11/02/2018 12:26 AM
Lori Levy:
I also like the idea of the silence between sounds.
Posted 10/31/2018 07:27 PM
Jo:
I like hearing the crunch of tires in snow...and thinking about the silence between sounds. Thank you so much.
Posted 10/31/2018 12:55 PM
michael escoubas:
What could be more "everyday" than the crunch of tires in snow? Well done, Tim.
Posted 10/31/2018 10:58 AM
Glen Sorestad:
So well captured, Tim. A priceless memory.
Posted 10/31/2018 10:51 AM
wordartdjc:
Sweet...and BRRRRR, Cold
Posted 10/31/2018 10:02 AM
njc:
Here in northern Wisconsin, we're lucky NOT to have snow on Halloween! I wonder if this is a reference to the 1991 storm--almost 2' of wet heavy snow which started falling just as school got out. I love the last line--as I, too, seem to remember everything about that day!
Posted 10/31/2018 08:55 AM
cork:
I enjoyed the sounds and their absence. Thanks.
Posted 10/31/2018 08:17 AM
Larry Schug:
We Minnesotans won't forget that snowstorm. You've captured the angst a person can feel, even smell, in the air preceding a storm.
Posted 10/31/2018 07:31 AM