November, why?
Why do more of my friends and family die
when you show up?

Darker each day, you plod towards Solstice
bringing cold, rain, slippery roads,
cancelled flights, looming Christmas,
the realization that once again I'm not going to make
those thoughtful, lovely gifts dreamed of in July.

At least you're short, though February has you beat;
few as they are, its days get longer.

Just when I want to hibernate,
just when the mice move back inside
you shake out a list of things
to be put off no longer:
winter tires, Christmas baking,
the abominable annual seasonal letter.

November, get a grip. Take a trip.
Go south for a bit, in a plane or a van,
somewhere there's a ceiling fan.
Dive into a pool. Get a tan.
Come home late from dancing.


© by Linda Crosfield.
Used with the author's permission.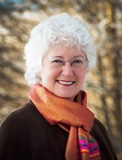 Linda Crosfield lived in Ottawa, Windsor, Montreal, Toronto, and Vancouver before returning to the Kootenays where she was born. She now lives in Ootischenia, in southeast British Columbia, with her husband Ted, a woodturner. As overseer of her micro-press, Nose in Book Publishing, she produces chapbooks and handmade journals. Linda's poems appear in a variety of literary magazines, chapbooks, and anthologies and, this year, one of her poems can be seen on buses in the Vancouver area as part of Poetry in Transit. She blogs sporadically at www.purplemountainpoems.blogspot.com.
Lori Levy:
Love the ideas and humor in this poem.
Posted 11/06/2018 04:55 PM
wendy morton:
Dance!
Posted 11/06/2018 10:31 AM
Jean Colonomos-1:
I know what you mean.
Posted 11/06/2018 10:08 AM
cork:
Oh, I must do my 2018 Christmas poem but will probably wait until December. Thank you for the reminder.
Posted 11/06/2018 08:24 AM
KevinArnold:
I like November, get a grip. Take a trip. Go south for a bit, in a plane or a van, somewhere there's a ceiling fan. Great use of casual rhymes, light and concise.
Posted 11/06/2018 07:56 AM
Larry Schug:
"Come home late from dancing"---good advice at the end of a good poem.
Posted 11/06/2018 07:49 AM