A light snow glazes the ground.
Nothing stirs in the house save
for the smell of Grandma's cinnamon buns
wafting from the kitchen up the stairs
into my room. I float down like a feather
helpless in the wind. I watch her hands at work
kneading a second batch. She shapes a log
long as a Dachshund, on a floured baking board,
then cuts the rolls in equal shares.
With a bristle-brush she swishes melted butter
on each one. Into the oven they go.
Yeast rises like the sun bursting through clouds.
As the rolls brown, happy smells squeeze
through the oven door, caress my hungry face.
I'm eager to taste the first one out.
After a drizzle of luscious sugar glaze, 
I hear the sound of love in grandma's voice,
Here, try one, make sure they're fit to eat.


© by Michael Escoubas.
Used with the author's permission.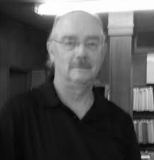 Michael began writing poetry for publication in August of 2013, after retiring from a 48-year-career in the printing industry. He writes poetry because, early in life, his mother encouraged him. Michael also writes poetry because he believes poetry brings people together and that poets are menders of broken things. Michael is the author of two collections, Light Comes Softly and Monet in Poetry and Paint.
wordartdjc:
Sweet, so deliciously sweet.
Posted 11/12/2018 09:47 AM
Sharon Waller Knutson:
This poem is delightful. I can smell the cinnamon buns, see the narrator floating like a feather helpless in the wind, the grandmother shaping a log long as a Dachshund, and hear the sound of love in Grandma's voice.
Posted 11/11/2018 05:00 PM
Lori Levy:
Love "happy smells" and "hungry face," and I really want a cinnamon bun after reading this.
Posted 11/11/2018 04:46 PM
Larry Schug:
I will definitely try one, in fact, I savor the all the various delights inside this poem.
Posted 11/11/2018 01:34 PM
Jo:
How I wish I were waking to the smell of your grandma's cinnamon buns.A lovely poem. I can hear my own grandma say, "Make sure they're fit to eat." Ha. We could devour the whole bunch.
Posted 11/11/2018 11:20 AM
Marcia L.:
Having made cinnamon buns many times over the years, I knew exactly why his Grandma was busy kneading the second batch. I was very tactilely moved by this poem -- could feel the soft, yeasty dough in my hands,struggling to keep the roll tight.
Posted 11/11/2018 11:19 AM
cork:
A mouth watering poem for this Sunday morning. Thanks.
Posted 11/11/2018 10:25 AM
KevinArnold:
Yes, long as a Dachshund. Perfect.
Posted 11/11/2018 10:00 AM