Looking around, you'll sometimes notice
a red-haired woman sitting by herself gazing out a window
or a sad-faced fellow man sitting on the edge of a cliff
 
staring out to sea.  We need
these seemingly empty moments
to consider our place,

our path in the wider world—before
our hurrying and scurrying
is no more.


From Language Lessons: A Linguistic Hegira,  a forthcoming collection.
Used with the author's permission.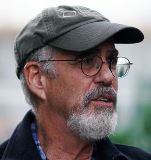 Photo credit: Patrick Rutherford

David Holper has done a little bit of everything: taxi driver, fisherman, dishwasher, bus driver, soldier, house painter, bike mechanic, bike courier, and teacher. He has published a number of stories and poems, including two collections of poetry, 64 Questions (March Street Press) and The Bridge (Clare Songbirds Publishing). David's poems have appeared in numerous literary journals and anthologies, and he has recently won several poetry competitions, in spite of his contention that he never wins anything. He teaches English at College of the Redwoods and lives in Eureka, California, far enough from the madness of civilization that he can still see the stars at night and hear the Canada geese calling.
Mary Lou Taylor:
You are so right.
Posted 11/18/2018 02:28 PM
wordartdjc:
Lovely and so meaningful.
Posted 11/17/2018 07:05 PM
barbsteff:
Exquisite!
Posted 11/17/2018 02:40 PM
Lori Levy:
Great! Short and powerful.
Posted 11/17/2018 02:25 PM
Dorothy WildhagenD:
Very nice. Time waits for no one. Take advantage while you have the light.
Posted 11/17/2018 11:42 AM
joecot:
I'm eagerly looking forward to the Language Lessons book.
Posted 11/17/2018 10:11 AM
michael escoubas:
With you all the way, David! Thank you.
Posted 11/17/2018 07:28 AM