About a mile square
surrounded by woods,
my home town provided
a safe nest.
Anchored in the center
with a town hall,                                                 
one church, and one school.
We knew the names
of every person in every house,
and all the dogs.
Allowed to roam free,
we invented our days
with the resources we had,
the river, back yards, each other.
None of us were ever afraid
to walk home in the dark.
 
This poem first appeared in Free Range Kids (2017).
Used here with the author's permission.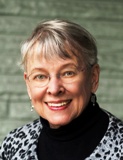 Peggy Trojan retired from teaching English to the north woods of Wisconsin. She and her husband, David, with the help of family, built a house next to a trout stream, where Peggy writes and tends her raspberry patch so she can make jam. A member of the Wisconsin Fellowship of Poets, Peggy is the author of three chapbooks and a full collection.
Lori Levy:
This poem gives off such a peaceful vibe!
Posted 11/19/2018 10:19 PM
barbsteff:
This is not northern Wiscosin unless there are a few bars as well. They would not be frequented by kids, but still: It's the standard observation that bars are ubiquitous in Wsconsin! Fun nostalgia.
Posted 11/19/2018 12:51 PM
Dorothy WildhagenD:
Nostalgic and lovely.
Posted 11/19/2018 12:49 PM
Jancan:
My, how things have changed--a theme well-conveyed in this poem. Janice
Posted 11/19/2018 12:16 PM
njc:
"...a safe nest." My sister and I used to pretend we were birds, hidden in our nests in the deep grass by the creek. Thanks for the memories--this IS the way it was for many of us.
Posted 11/19/2018 09:13 AM
wordartdjc:
Yes, the quintessential small town of Norman Rockwell. Something people dream of.
Posted 11/19/2018 09:08 AM
paradea:
Exactly!!!
Posted 11/19/2018 08:27 AM
pwax:
Nice quiet poem. Perfect last line.-- Phyllis
Posted 11/19/2018 07:54 AM
Larry Schug:
No play dates, no scheduled soccer games, bikes ridden wherever you wanted to go, the entire town keeping an eye on you, the noon whistle or church bells the only clock needed. This poem is filling me with un-written poems.
Posted 11/19/2018 07:50 AM
KevinArnold:
A place with nothing foreign, like postwar Germany. Almost mythic, particularly the square mile, the river, and the named dogs. A poem to ponder.
Posted 11/19/2018 07:37 AM