A single light can lead you home. One light
is all you need to break the back of night
when darkness seems to weigh more than it has
on all the nights before, and nothing's as
it was. Bit by bit, the lighter shades
of night you used to trust have faded as
you stopped believing in relief. The dark
goes on forever, and begins right where you are.

But when your eyes can't guide your steps, you learn
to trust your heart instead. You rise and turn
toward where you need to go, and in the dark
you think you see a glimmer like a star
that wasn't there until you headed home
through darkness, trusting that a light would come.


From One Light (Texas Review Press, 2018).
Used with the author's permission.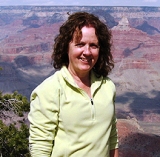 Dana Wildsmith is the author of five collections of poetry and a memoir, and was a Georgia Author of the Year finalist. Born and raised in rural South Georgia, she traveled extensively as a Navy wife before settling in Bethlehem, Georgia, on a century-old family farm outside Atlanta. Dana's love of family, nature, music, tradition, and life's simple joys is the focal point of her poignant, compelling work, which has been featured in numerous journals, magazines, and anthologies, including the highly acclaimed Listen Here: Women Writing in Appalachia. She is a gifted teacher as well, sharing her passion for language from ESL classes at Lanier Technical College to residencies acoss the country.  Learn more about Dana at www.danawildsmith.com.
Jancan:
I REALLY like this moving, uplifting poem. Janice
Posted 11/23/2018 03:24 PM
wordartdjc:
Interesting and delightful at the same time. The rhyme comes suddenly as nearly a surprise. The content perfect.
Posted 11/21/2018 12:24 PM
michael escoubas:
Thank you for this wonderful sonnet, Dana. I like the conversational tone of it.
Posted 11/21/2018 08:47 AM
paradea:
No. I LOVE this poem!!!
Posted 11/21/2018 08:37 AM
paradea:
I like this!!
Posted 11/21/2018 08:36 AM
KevinArnold:
You stopped believing in relief is a powerful phrase.
Posted 11/21/2018 08:01 AM
bbatcher:
Poignant sonnet
Posted 11/21/2018 06:36 AM