A wind's in the heart of me, a fire's in my heels,
I am tired of brick and stone and rumbling wagon-wheels;

I hunger for the sea's edge, the limit of the land,

Where the wild old Atlantic is shouting on the sand.

Oh I'll be going, leaving the noises of the street,

To where a lifting foresail-foot is yanking at the sheet;

To a windy, tossing anchorage where yawls and ketches ride,

Oh I'l be going, going, until I meet the tide.

And first I'll hear the sea-wind, the mewing of the gulls,

The clucking, sucking of the sea about the rusty hulls,

The songs at the capstan at the hooker warping out,

And then the heart of me'll know I'm there or thereabout.

Oh I am sick of brick and stone, the heart of me is sick,

For windy green, unquiet sea, the realm of Moby Dick;

And I'll be going, going, from the roaring of the wheels, 
For a wind's in the heart of me, a fire's in my heels.
This poem is in the public domain.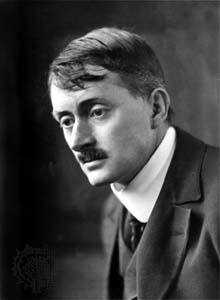 John Masefield (1878-1967) was an English poet, author, and playwright. Both his parents died while he was a child, and at the age of thirteen, annoyed with John's "addiction" to reading, the aunt in charge of caring for him sent him off to train for a life as a sailor. Although his experiences at sea provided much material for the stories and poems he would later write, John soon tired of that harsh life and, on a voyage to New York, he jumped ship. For two years, he worked at odd jobs in that city, using his free time for reading and writing. He eventually returned to England, married, had two children, and established himself as a significant literary talent. As his stature as a writer continued to grow, John became an internationally successful lecturer and was appointed as England's poet laureate, a position he held for nearly forty years. He actively wrote and published until he was 88 years old.
TheSilverOne:
Familiar with his "Sea Fever" but not this one...I also love the sea, but from the shores. Enjoyed this poem.
Posted 02/25/2015 09:25 PM
transitions:
Love it. Too bad rhymes are 'out of fashion' as it takes a special skill and perhaps more preparation than many of today's rambling, long-winded poems, many from disgruntled poets with an ax to grind ~.
Posted 02/25/2015 12:15 PM
John:
Beautiful lines. It's too bad that rhymed verse is so out of fashion.
Posted 02/25/2015 07:13 AM
rhonasheridan:
This is a poem I - to my surprise - missed. I love Masefields poems, and this is a gem. I live by the sea and at the moment (6.00am) it is very rough and noisy. What a perfect time to read Masefield
Posted 02/25/2015 12:44 AM
KevinArnold:
England's Poet Laureate for forty years, my goodness; from such unlikely beginnings. I have a fondness for poems like this that circle back into themselves with similar first and last lines. And such fine lines, "a wind's in the heart of me, a fire's in my heels"
Posted 02/24/2015 11:48 PM