For Amy Casillas, RIP (Sept. 3, 2018)

So what if I'm Jewish?
I love when you invite us to your Christmas dinner.
I love your honey-baked ham, your baked beans,
your salads and cakes and cookies.
I love the fire in your hearth, the scented candles you light,
the ornaments and glitter, the stars, the colored lights.
I love the Baby's Breath you weave through your tree,
the boxes beneath it, the red ribbons and bows,
the bright wrapping paper.
I love the daughter you've raised--
and the man my son's become with her at his side.
I love the granddaughter we share,
the way she reaches for my necklace,
wriggles fingers to your song.

I come to you for festivity. For sparkle and flame.
For the table we gather round and the sofas
we sink into. For laughter, conversation.
I come to celebrate with you.
Call it Christmas. Call it Hanukkah.
Call it candles and lights.
Praise the union of our families.
Praise latkes and ham.


© by Lori Levy.
Used with the author's permission.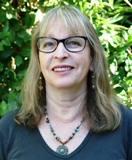 Lori Levy's poems have appeared in numerous literary journals, anthologies, and medical humanities journals in the U.S., England, and Israel. Having grown up in Vermont and raised three children in Israel, she now lives with her family in a multi-generational home in Los Angeles. Lori's four grandchildren keep her entertained, on her toes and, occasionally, inspire poems.
jamvan:
Such a lovely antidote to the hateful sentiments so often expressed. God bless you and your wonderful family.
Posted 12/27/2018 03:52 AM
wordartdjc:
What a fine poem. I really think that the ideas in it are so warming.
Posted 12/11/2018 04:47 PM
Carolyn:
Lori. This is so beautiful, full of love and acceptance. You see what unites rather than separates and that is so badly needed in our world.
Posted 12/09/2018 04:12 AM
Lori Levy:
Happy holidays to all of you and thank you for the comments on my poem!
Posted 12/08/2018 08:54 PM
Maryann Hurtt:
Yes!
Posted 12/08/2018 08:46 PM
MLove:
Would love to see the friend's response! Great poem!
Posted 12/08/2018 02:10 PM
DavidTookey:
What a beautiful poem. Thank you!
Posted 12/08/2018 12:18 PM
Jean Colonomos-1:
Yay for celebrations!
Posted 12/08/2018 11:29 AM
CamilleBalla:
I like being invited to this warm, affirmative poem celebrating this season. Praise the poem!
Posted 12/08/2018 11:29 AM
Arlene Gay Levine:
Thanks, Lori, for sharing a poem rich with personal meaning that also shines light on the universal hope for peace on earth and goodwill towards all.
Posted 12/08/2018 11:08 AM
cork:
Shalom!
Posted 12/08/2018 10:00 AM
Gilbert Allen:
I admire the generous honesty of this poem.
Posted 12/08/2018 09:22 AM
Jane Eva Cooper:
Let us celebrate diversity. It's one of the blessings of a life well lived.
Posted 12/08/2018 07:04 AM
Larry Schug:
Praise this poem!
Posted 12/08/2018 06:43 AM