A man is at his finest
     towards the finish of the year;
He is almost what he should be
     when the Christmas season is here;
Then he's thinking more of others
     than he's thought the months before,
And the laughter of his children
     is a joy worth toiling for.
He is less a selfish creature than
     at any other time;
When the Christmas spirit rules him
     he comes close to the sublime.

When it's Christmas man is bigger
     and is better in his part;
He is keener for the service
     that is prompted by the heart.
All the petty thoughts and narrow
     seem to vanish for awhile
And the true reward he's seeking
     is the glory of a smile.
Then for others he is toiling and
     somehow it seems to me
That at Christmas he is almost
     what God wanted him to be.

If I had to paint a picture of a man
     I think I'd wait
Till he'd fought his selfish battles
     and had put aside his hate.
I'd not catch him at his labors
     when his thoughts are all of pelf,
On the long days and the dreary
     when he's striving for himself.
I'd not take him when he's sneering,
     when he's scornful or depressed,
But I'd look for him at Christmas
     when he's shining at his best.

Man is ever in a struggle
     and he's oft misunderstood;
There are days the worst that's in him
     is the master of the good,
But at Christmas kindness rules him
     and he puts himself aside
And his petty hates are vanquished
     and his heart is opened wide.
Oh, I don't know how to say it,
     but somehow it seems to me
That at Christmas man is almost
     what God sent him here to be."


This poem is in the public domain.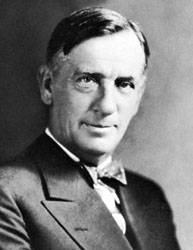 Edgar Guest (1881 - 1959)  was born in England,  but moved with his family to Detroit, Michigan, when he was ten years old. He worked for more than sixty years at the Detroit Free Press, publishing his first poem at the age of seventeen, then going on to become a reporter and columnist whose work was featured in hundreds of newspapers around the country. Edgar is said to have written some 11,000 poems during his lifetime, most of it sentimental, short, upbeat verse. Critics often derided his work, but America adored him. He was known as the "People's Poet," served as Michigan's poet laureate, hosted a long-running radio show and TV show, and published more than twenty books.
wordartdjc:
Such fine thoughts in Guest's poetry. Yes, America adored him and that is as it should be.
Posted 12/24/2018 10:07 AM
KevinArnold:
Guest breaks each rhymed extended-line into two lines . . . by splitting these at the natural rhythms of speech, he manages to make reading this poem aloud a pleasure.
Posted 12/23/2018 03:28 PM
michael escoubas:
Oh, that Guest's assessment be true! Wonderful post, Jayne.
Posted 12/23/2018 02:08 PM
cork:
I grew up in Detroit, and Edgar Guest was a great influence on my own poetry career.
Posted 12/23/2018 10:49 AM