'Twas merry when the hut was full
Of jolly girls and fellows.
We danced and sang until we burst
The concertina's bellows.
From distant Darling to the sea,
From the Downs to Riverina,
Has ever a gum in all the west
Not heard the concertina?
'Twas peaceful round the campfire blaze,
The long white branches o'er us;
We'd play the tunes of bygone days,
To some good old bush chorus.
Old Erin's harp may sweeter be,
The Scottish pipes blow keener;
But sing an old bush song for me
To the good old concertina.

'Twas cosy by the hut-fire bright
When the pint pot passed between us;
We drowned the voice of the stormy night
With the good old concertina's.
Though trouble drifts along the years,
And the pangs of care grow keener,
My heart is gladdened when it hears
That good old concertina.


This poem is in the public domain.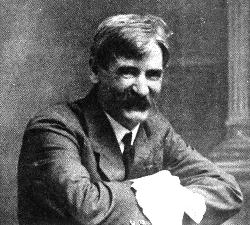 Henry Lawson (1867 - 1922) was born in New South Wales but moved to Sydney as a teenager. Deaf from the age of fourteen due to damage from an ear infection, he was an avid reader who began publishing poetry at the age of twenty. Henry wrote nonfiction and short stories as well as poetry, using Australia's bush country and rural residents as a theme for much of his work; this focus earned him a reputation akin to some of America's "cowboy poets." One of Australia's most celebrated writers during his lifetime, Henry's chronic financial problems and alcohol abuse kept his personal life in turmoil, but he was much beloved by his countrymen, and his death was marked with a state funeral attended by thousands of mourners.
wordartdjc:
This brings back sweet memories. My dear Uncle Van played the Concertina.
Posted 12/27/2018 02:22 PM
Larry Schug:
I could go n and on about how much I like this poem. I would have loved to be at this gathering; exactly my kind of party. And Lawson, to be deaf, but still hear the concertina in his memory-wow! Thanks for this, Jayne. I've got to explore more of Lawson's work.
Posted 12/27/2018 06:42 AM