Janus am I; oldest of potentates;
Forward I look, and backward, and below
I count, as god of avenues and gates,
The years that through my portals come and go.
 
I block the roads, and drift the fields with snow;
I chase the wild-fowl from the frozen fen;
My frosts congeal the rivers in their flow,
My fires light up the hearths and hearts of men.


This poem is in the public domain.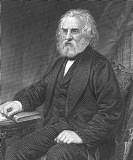 Most experts would agree that Henry Wadsworth Longfellow was the most popular American poet of the nineteenth century. A family man who suffered much tragedy in his personal life, Longfellow was the first of a group of writers known as the "Fireside Poets," called such for their popularity with families all over the country who gathered by the fire in the evenings to read the work of these poets aloud. Longfellow published poetry over a forty year period, and enjoyed public adulation in line with that of rock stars and celebrities today.
wordartdjc:
We certainly need the fires in men's hearts about now! Yes, I do love Longfellow also
Posted 01/04/2019 01:19 PM
paradea:
I love Longfellow!!!
Posted 01/03/2019 09:05 PM
barbsteff:
Poem shows its age, as the poet knows what a potentate is and what a fen is! Delightful, short and to the point, unlike many older poems.
Posted 01/03/2019 12:56 PM
Michael:
Great post, Jayne. The Roman god has two faces capable of looking both forward and backward--perfect poem for the month. Thank you.
Posted 01/03/2019 09:56 AM
cork:
"Potentates" is a lovely word.
Posted 01/03/2019 08:42 AM
Charly:
This is one I gad not read before. It perfectly states this first cold month of the New Year.
Posted 01/03/2019 07:46 AM