They're the oldest couple
my wife and I know
and we're no pups either.

Peter out for a walk
leans on his cane often
to admire my wife's garden.

The English roses remind him
of home, he says, and one day
he invites us over for tea
at the civilized hour of 3.

That day at 3
we enter an old world
in a Victorian house
and are served tea in
porcelain cups with warm
scones and marmalade.
They arrive on a silver tray.

It's a presentation
one might expect
at the proper hour at
Buckingham Palace or
in a nice cottage in England.

Peter excuses himself
for a moment and I get brave
and ask his wife how long
they have been married.

Sixty years, Mary whispers,
and then with a tinkling giggle
she says whenever Peter
enters a room her heart
still beats faster.


© by Donal Mahoney.
Used with the author's permission.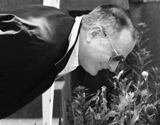 Donal Mahoney lives in St. Louis, Missouri. A native of Chicago, he spent the early '70s actively submitting poems to print journals and enjoyed some success. He then took a 35-year hiatus from poetry to work as an editor of prose at such lofty establishments as the Chicago Sun-Times, Loyola University Press, and Washington University in St. Louis. Upon retirement, Donal took to his recliner, and was perfectly happy reading and listening to Gregorian chant all day. After three years, however, his wife bought Donal a computer and showed him where the boxes of still-unpublished poems had been stored in the basement for many years. Thus Donal began actively submitting again in June 2008. See more of his work at http://booksonblog12.blogspot.com/.
Jo:
Your poem makes my heart skip a beat. Just beautiful.
Posted 02/08/2019 04:59 PM
barbsteff:
My husband and I passed our 60th last summer. I'll not be serving high tea and scones from a silver tray however. Not our style. Lovely poem commending long commitment and style.
Posted 02/08/2019 04:25 PM
Lori Levy:
Beautifully described.
Posted 02/08/2019 02:35 PM
michael escoubas:
My sentiments are similar, but it is only 50 years for Trudy and me! Taking notes on marriage from this poem. Thank you.
Posted 02/08/2019 11:49 AM
wordartdjc:
Just plain braut[ful!
Posted 02/08/2019 09:10 AM
cork:
My wife and I will celebrate our 60th wedding anniversary this July 2. I, too, listen to Gregorian Chant and sing the Ave Maria.
Posted 02/08/2019 08:57 AM
Larry Schug:
This shows the beauty and uniqueness of every person we encounter and it shows a sympathetic, open-hearted narrator.
Posted 02/08/2019 06:53 AM