The road into small town
America's Midwest takes
dead aim on the courthouse,
its dome or steeple the most
prominent landscape beacon,
visible miles away.

The seat of justice is
the town's beating heart,
its center, focus of its plaza.

Sometimes the highway
hones to the town's core,
then arcs around
the courthouse
as if it were
the Eiffel Tower.
The courthouse is
America's Gothic cathedral,
its Medieval castle.


© by Glen Sorestad.
Used with the author's permission.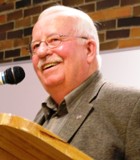 Glen Sorestad has been writing poems for fifty years and claims he still enjoys doing so. His wife Sonia is his first and most enthusiastic reader and editor. They live in Saskatoon, "the Paris of the prairies." Learn more about Glen here.

Jo:
I enjoyed your poem, Glen. I'd never thought much about it, but see you are right. Jayne, that courthouse is lovely.
Posted 02/18/2019 04:53 PM
Jancan:
Lovely tribute to courthouses--good metaphor and simile. Jancan
Posted 02/18/2019 12:02 PM
wordartdjc:
Very astute. I do agree. Men of that era felt monuments were needed to inspire.
Posted 02/18/2019 10:14 AM
Glen Sorestad:
Safe travels, Larry. And to all of you intrepid winter travelers.
Posted 02/18/2019 08:52 AM
Larry Schug:
About to embark on a journey from Minnesota to New Mexico on the "blue highways", not the interstates, I'll be driving through this poem. Greetings, Glen.
Posted 02/18/2019 07:09 AM