The air is like a butterfly
    With frail blue wings.
The happy earth looks at the sky
    And sings.


This poem is in the public domain.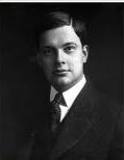 Alfred Joyce Kilmer (1886 – 1918) is best known for his poem, "Trees," but he actually produced quite a large volume of work. Had his life not ended so tragically early, many believe he would have developed into one of America's great poets. Joyce married young and fathered five children even as he was establishing himself as a teacher, writer, and lecturer. While coping with the illness of one of their children, Joyce and his wife converted from the Episcopal faith to Catholocism and he ultimately became the leading Catholic poet of his time. When World War I broke out, Joyce enlisted and had contracted to write a book about his war experiences. Unfortunately, he was killed on a French battlefield before he ever even began the book; he was only 31 when he died. Interesting side note: Joyce's father worked for Johnson & Johnson and is credited with inventing that company's famous baby powder.
wordartdjc:
Such a sweet and lovely thing. I have ever felt sad about Joyce Kilmer's life being cut so very short. He was certainly an excellent poet.
Posted 04/22/2019 10:27 AM
Michael:
Delightful poem and also appreciate the extra background notes.
Posted 04/22/2019 09:11 AM
cork:
Blue skies, nothing but blue skies.
Posted 04/22/2019 08:52 AM