(senryu)
bees in lavender
no breaks no strikes here, no boss—
workers rule this shop



From ten mile creek almanac (Finishing Line Press, 2019).
This poem first appeared in Haiku Journal (2013).
Used here with the author's permission.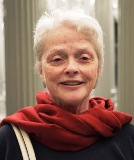 Grace Hughes Chappell has lived nearly all of her adult life in northern California. After raising their children in San Francisco, she and her husband decided they needed to continue having a grand challenge in their lives so they moved to acreage in Mendocino County along a feeder stream of the Eel River and, for some twenty-four years, have cultivated a garden and an apple orchard there. Grace's work has been widely published and her chapbook, ten mile creek almanac, has just been released from Finishing Line Press. When she remembers to, Grace posts entries at gracehugheschappell.blogspot.com.
ghctenmile@earthlink.net:
A special thank you to the bees, of course, but especially at this moment to you, Jayne, and to all your faithful poets and readers--Grace
Posted 04/25/2019 02:26 PM
Lori Levy:
Like the image of the bees in lavender.
Posted 04/24/2019 03:06 PM
Janet Leahy:
Great Poem!! Thanks Grace.
Posted 04/24/2019 01:12 PM
barbsteff:
Love the edonomy of language here.
Posted 04/24/2019 12:05 PM
CamilleBalla:
I?ll remember this haiku when I see bees in my lavender.
Posted 04/24/2019 10:10 AM
cork:
Arigato!
Posted 04/24/2019 08:49 AM
paradea:
Love it!!
Posted 04/24/2019 08:49 AM
Marilyn Barber:
My grandfather in South Dakota was a bee keeper well known allover the state
Posted 04/24/2019 08:10 AM
Marilyn Barber:
Thank The Lord for the bees working their little wings off so we can have sweet honey and sweet flowers
Posted 04/24/2019 08:05 AM
Larry Schug:
Indeed!
Posted 04/24/2019 07:03 AM
KevinArnold:
No wasted words here. Fun.
Posted 04/24/2019 07:02 AM