A Light exists in Spring
Not present on the Year
At any other period —
When March is scarcely here

A Color stands abroad
On Solitary Fields
That Science cannot overtake
But Human Nature feels.

It waits upon the Lawn,
It shows the furthest Tree
Upon the furthest Slope you know
It almost speaks to you.

Then as Horizons step
Or Noons report away
Without the Formula of sound
It passes and we stay —

A quality of loss
Affecting our Content
As Trade had suddenly encroached
Upon a Sacrament.
This poem is in the public domain.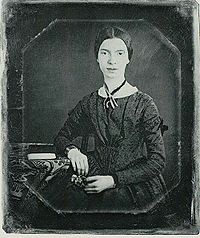 Emily Dickinson (1830 – 1886) is considered a major American poet, though she was not accorded this honor until well after her death, when her younger sister discovered and began to share the enormous body of work that Emily left behind. A recluse who almost always wore white, Emily was born to a prominent Massachusetts family and spent the bulk of her life inside her home in Amherst. Only seven of her poems were published during her lifetime, and virtually none were published as originally written until the mid 1950s. (Emily's odd punctuation, capitalization, and formatting did not meet with standard publishing  "approval" for earlier editions.)  There is a whimsical nature to many of her poems, although the subject of death was the most frequent recurring theme.
transitions:
And, third. Only One Emily♡
Posted 03/09/2015 10:32 PM
Jo:
I second Phebe. No one says it better.
Posted 03/09/2015 08:23 AM
phebe.davidson@gmail.com:
Emily, I think, got this just right.
Posted 03/09/2015 06:07 AM