It is good to be near green:
sweet grass growing even through concrete,
leaves in every conceivable design
gracing oak or rose or vine, peaceful pastures
where cradled in emerald you can surrender
to the sky all regrets and worries of Time.
 
It is healing to be near green:
to be swathed in the incense of growing things
a scent both fresh and ancient,
to follow the stream weaving
through deep forest to the heart
of the evergreen cathedral
sculpted stone by stone
from the days and ways of your life
purring greenly there in the silence
like the prayer that it is.
 
 
From Earth Blessings (Viva Editions, 2016).
Used here with permission.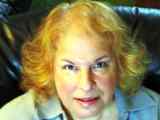 Arlene Gay Levine is the author of 39 Ways to Open Your Heart: An Illuminated Meditation (Conari Press) and Movie Life (Finishing Line Press). Her poetry and prose has appeared in many venues, including The New York Times, an off-Broadway show, and on radio. Arlene lives with her husband in New York City, where she tends a garden of words, roses and herbs. Learn more about her at http://www.arlenegaylevine.com/.
Lori Levy:
Totally agree! Love the "evergreen cathedral."
Posted 05/21/2019 03:00 PM
Larry Schug:
The final two lines are magnificent. We in Minnesota are starved for green for months on end and when it arrives in all its various shades it is not only a prayer, but a prayer answered.
Posted 05/21/2019 07:25 AM