There're lots of enticing pickings
for raccoons at the compost heapó
apple cores, Caesar salad, some
corn still on the cob. The garden
boasts cherry tomatoes that fit

raccoon paws like a baseball
in a mitt. On the porch where
we had drinks are canned nuts,
chips and dip. Fish flakes in jelly
embellish the cat dish. All of

these edibles untouchedó
the masked bandits did pass through
on their nightly raid, but left their
gamboling paw prints only around
the children's slide and swing set.


© by Dennis Trujillo.
Used with the author's permission.
†
†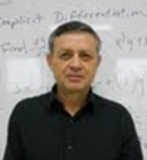 Dennis Trujillo is a former U.S. Army soldier and middle/high school math teacher from Pueblo, Colorado. After retiring from these two professions, he has taken up poetry and finds it equally challenging and rewarding; his first collection is forthcoming from Future Cycle Press. Dennis runs and does yoga every morning for focus and the sheer joy of it.
Jo:
Thanks for the poem on raccoons. They are very clever, and don't ever leave the grape jelly out. Loved that part about the cherry tomatoes.
Posted 05/29/2019 08:25 PM
Lori Levy:
Great depiction of raccoons and what they do and don't eat!
Posted 05/29/2019 03:17 PM
KevinArnold:
Some of the most wonderful poems brilliantly answer the question ?How could anyone make a poem out of that??
Posted 05/29/2019 09:19 AM
michael escoubas:
Having grown where raccoons were rampant and bold, I can relate, Dennis. Well done! Really like the cherry tomatoes fitting into paws like baseballs.
Posted 05/29/2019 08:22 AM