Itís hot and dry.†
Watering the plants in the
†
front yard, I watch bumblebees
work through flower blossomsó

seasonal laborers in a floral orchard.†
I donít disturb them with the water.†

Itís fascinating to witness.
They caress each blossomóevery one!†

Pausing my urgent, wheel-spinning
thoughts to watch this happen,

I sense a deep mystery.†
At lastóone plant emptiedó

these unknowable creatures
hover off to the next,

beginning again.


© by David M. Tookey.
Used here with the author's permission.
†
†
†
†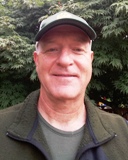 David M. Tookey lives in Seattle, Washington, where he is an elementary school teacher. A bicycle is his main mode of transport around town; David says he finds he can tinker with poems in his head as he rides. He also enjoys baking bread and, after exploring colleges with his daughter recently, he is filled with hope after seeing and interacting with so many terrific young people.
†
†
†
†
†
CamilleBalla:
Thank you for showing me how to notice the bees when I?m watering the garden or sitting outside, thus bringing me into the present moment instead of thinking about my to-do list or whatever else.
Posted 06/02/2019 10:23 PM
michael escoubas:
How important it is, David, to do as you show in your poem; press the pause button and appreciate simple, yet important mysteries.
Posted 06/02/2019 05:16 PM
BAMars:
I love this. I need to get back to that childlike appreciation of the mystery. I miss taking my kids on college tours! Have fun!
Posted 06/02/2019 03:38 PM
TheSilverOne:
Beautiful poem....reminding one to pay attention to the small things around us.
Posted 06/02/2019 09:31 AM