Rising while we were still asleep
you put your heavy boots on
and left to work the oil fields
fitting iron pipe,
while your hands froze
under the cold, New Jersey sky.
When we awoke we ate oatmeal,
donned our nice clothes,
and hurried to school.
Afterward, we played Hide 'n Seek,
Hopscotch, or rode around
the neighborhood
on our shiny, Schwinn bikes.
Still you were not home from work.

On humid, summer weekends,
you dropped us off at the Arcola Pool
out in the suburbs,
where we splashed, swam and cooled off
under the spray of the huge fountain
while you returned to sweat while
remodeling the never-ending repair
on our old house often pouring yourself
some whiskey in your iced coffee
to keep you going.

As you hammered and sawed
to improve our lives, did you ever wonder
if it all was worth the sacrifices you made?
Did our little gifts of Old Spice and ties
really show you how much we cared?


From Why I Miss New Jersey (Everhart Press ,2013).
Used here with the authorís permission.
†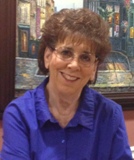 Barbara Eknoian lives in La Mirada, California. From her store of vivid memories, she writes a lot about her growing-up years. Originally from New Jersey, she was forever homesick until she joined Donna Hilbert's poetry workshop in Long Beach. Barbara was the first recipient of the Jane Buel Bradley Chapbook Award for her collection,†Jerkumstances†(Pearl Editions).
Jeri Thompson:
I love how specific this poem is, it really shows me what your dad was like, and why you loved him so.
Posted 12/14/2019 01:11 AM
BAMars:
I love to read Barbara's poems and piece together her life in my imagination. Her writing always takes me right there.
Posted 06/14/2019 03:15 PM
Nabby Dog:
This is a particularly moving poem with wonderful specifics that paint a portrait of this giving man. It is a fitting tribute to a father who is lovingly remembered and deservedly so.
Posted 06/12/2019 10:13 AM
peninsulapoet:
It was a blessing to me to have Barbara join the workshop. I love her poems.
Posted 06/12/2019 09:33 AM
Cathyís Sister:
Brought Terra?s to my eyes! Loving poem that all adult children should read.
Posted 06/12/2019 08:42 AM