Dad used to run 5Ks.
His shiny tight pants kept pace near the front
in a respectable clump, just behind the winners.
 
Needing more time, he says, to enjoy the race
he switches to marathons where thousands throng
in front of his panting pumping elbows
as he pounds twenty-six miles
of aging blacktop, pockmarked as his wrinkled brow.
 
We take the train all over the city,
raise our lettered felt signs, chanting "Go! Dad! Go!"
in the same singsong rhythm
he once read aloud to us at bedtime.
 
Five hours later, we wrap
a metallic blanket over his shivering shoulders,
help him hobble off with a medal and a new T-shirt,
his breath still roaring like a runaway truck.

© by Jacqueline Jules.
Used here with the author's permission.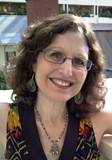 Jacqueline Jules is a former librarian who found herself intrigued by almost every book she put on the shelf. As a reader and as a writer, she doesn't restrict herself to one genre. A resident of Virginia, Jacqueline is the author of 40 books for young readers on a wide variety of topics. Her poetry has appeared in more than 100 publications, including three chapbooks: Field Trip to the Museum (Finishing Line Press), Stronger Than Cleopatra (ELJ Publications), and Itzhak Perlman's Broken String (Evening Street Press.) Learn more about Jacqueline at www.jacquelinejules.com.
barbsteff:
Great capturing of the human condition!
Posted 06/15/2019 03:52 PM
Michael:
Jacqueline has captured Father's Day perfectly--"Go Dad, go!"
Posted 06/15/2019 10:37 AM