I bring you a bouquet of birdsong.
A heart-shaped box of hope.

What? That's not enough?


© by Virginia Shreve.
Used here with the author's permission.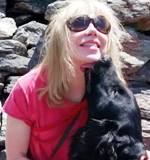 Virginia Shreve, who once penned a catalogue devoted solely to corrugated office products, now resides in the small river town of Collinsville, Connecticut, with a husband and dogs, none well-trained, but all good-natured. For years, she wrote and edited numerous regional newsletters, much dog humor, and her poems have appeared in various journals and anthologies. She believes there can hardly be too much chocolate. Or champagne.
Lori Levy:
Short, but beautiful.
Posted 06/20/2019 09:30 PM
suzanne:
The poem is beautiful in its simplicity. The description "with a husband and dogs, none well-trained, but all good-natured" made me laugh out loud!
Posted 06/20/2019 07:50 AM