Rain was friendly when I was a kid.
A low rumble from the west
stopped our games.
We headed home
to help take clothes off the line,
close windows,
make sure the cat was in.
First, splattering drops polka dotting
the hot sidewalk,
then a steady cool.
We ran around the yard in circles
with our arms out, like planes.
When it stopped,
we sat on the back steps to dry,
waiting for a rainbow.
 
 
This poem first appeared in Goose River Anthology (2014).
and in Essence (2015).
Used here with permission.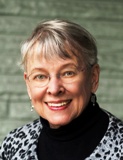 Peggy Trojan retired from teaching English to the north woods of Wisconsin. She and her husband, David, with the help of family, built a house next to a trout stream, where Peggy writes and tends her raspberry patch so she can make jam. A member of the Wisconsin Fellowship of Poets, Peggy is the author of three chapbooks and a full collection.
Lori Levy:
Beautiful depiction of children in the rain.
Posted 06/26/2019 12:55 AM
Janet Leahy:
Lovely memory piece. yes I too recall taking down things from a clothesline when the rain came. Thanks Peggy
Posted 06/25/2019 02:21 PM
Jo:
You captured some wonderful memories and made me realize how much we need to let go and do some of this as adults. Thanks so much, Peggy.
Posted 06/25/2019 01:47 PM
Jancan:
Ah, this one takes me back!
Posted 06/25/2019 11:26 AM
KevinArnold:
This poem is made by the couplet ?We ran around the yard in circles with our arms out, like planes? . . . Cinematic. I?m there.
Posted 06/25/2019 09:46 AM
michael escoubas:
Peggy, you've captured something eternally special in this poem. This piece is a prime example poetry's importance in life. Thank you.
Posted 06/25/2019 08:47 AM
vscholtz:
Thanks for the outlook on rainy weather. Mine is often not that positive. But I do remember sitting in the "car port" on Richard St. in Madison and watching the wind sweep sheets of summer rain up to our feet. almost like waves on a beach.
Posted 06/25/2019 07:01 AM